Mandela ex-aide not guilty over Naomi Campbell gems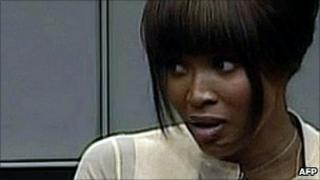 The ex-head of Nelson Mandela's children's charity has been found not guilty in a South Africa of illegally keeping unlicensed diamonds.
A judge said the case against Jeremy Ractliffe, who was given the stones by model Naomi Campbell, was not proven.
The existence of the gems emerged last year during the war crimes trial of Liberia's ex-President Charles Taylor.
Prosecutors at the trial said the uncut gems were "blood diamonds" Mr Taylor gave Ms Campbell after a 1997 dinner.
'Dirty-looking stones'
Ms Campbell gave evidence at Mr Taylor's trial before a UN special court in The Hague last August.
She testified that she was given some "dirty-looking stones" after a 1997 charity dinner hosted by South Africa's former President Nelson Mandela where Mr Taylor was also a guest.
She said two unidentified men appeared at her room and gave her the stones.
She told the court she did not have proof they came from Mr Taylor and had given them to Mr Ractliffe, then chief executive of Nelson Mandela's Children's Fund (NMCF), because she wanted the stones to go to charity.
Mr Ractliffe resigned from the charity's board after the revelations last August, saying he had kept the stones because he wanted to protect the reputation of Mr Mandela and his charity.
In court on Wednesday, his lawyer read out a statement on his behalf which said he did not know that "possession of the stones, if they are shown to be diamonds, was in any way unlawful".
Magistrate Renier Boshoff said the court felt the state had "not proved its case".
"Mr Ractliffe, you are not guilty of this charge," the Sapa news agency quoted him as saying.
If Mr Ractliffe had been found guilty of possessing uncut diamonds without a licence, he could have faced 10 years in prison or a fine of 250,000 rand ($36,600; £22,500) - or both.
Mr Taylor is accused of using illegally mined diamonds to secure weapons for Sierra Leone's RUF rebels during the 1991-2001 civil war - a charge he denies.
His prosecutors say that from his seat of power in Liberia, he also trained and commanded the rebels.
The rebels were notoriously brutal, frequently hacking off the hands and legs of civilians.
Mr Taylor's lawyers have argued that he tried to broker peace in Sierra Leone at the request of regional powers.
His three-year long trial closed in March and judges are expected to deliver their verdict later this year.