Libya: Clinton condemns rape as weapon of war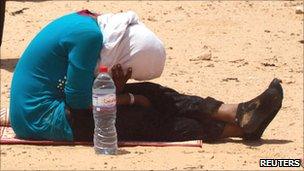 The US secretary of state has said she is troubled by reports that Libyan government forces are raping civilians.
Hillary Clinton said she was was "deeply concerned" that Muammar Gaddafi's troops were participating in widescale rape in Libya.
The International Criminal Court says it believes that there were orders given to rape and drugs were provided.
In other parts of the Middle East and North Africa, Mrs Clinton said, there were even reports of "virginity tests".
She said that there were reports that governments across the Middle East and North Africa were using sexual violence to punish protesters and said such acts violate "basic human dignity".
"Rape, physical intimidation, sexual harassment, and even so-called 'virginity tests' have taken place in countries throughout the region," she said in a statement.
The ICC's recent report suggesting an official policy of rape encouraged by Col Gaddafi, and Mrs Clinton said a thorough investigation was needed "to bring perpetrators to justice".
She praised the courage of Iman al-Obeidi, whose accusations of rape against soldiers loyal to Col Gaddafi drew worldwide attention when she stormed into a Tripoli hotel in Tripoli and shouted her experience to a group of journalists.
"Since Iman al-Obeidi bravely burst into a hotel in Tripoli on 26 March to reveal that Gaddafi's security forces raped her, other brave women have come forward to tell of the horrible brutality they have experienced," she said.
She said such violence was an "affront" to people "yearning to live in a society free from violence with respect for basic human rights".
One major in the Libyan army who has now deserted has told the BBC that reports of shipments of Viagra were widely known about, but said they were given to foreign mercenaries rather than the regular army.
Related Internet Links
The BBC is not responsible for the content of external sites.