Sudan fear for missing UN worker Hawa Abdullah Mohammed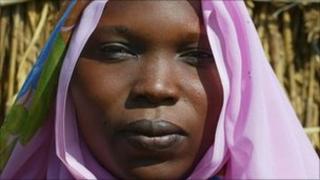 A Sudanese UN worker arrested in Darfur in May is being denied contact with lawyer and family and there is concern for her safety, rights activists say.
According to Amnesty International, Hawa Abdullah Mohammed was detained at the Abu Shouk camp for displaced people in Fasher where she worked.
The Sudanese Media Centre (SMC) said she was trying to convert children to Christianity and had links to rebels.
Ms Mohammed fled her village when the conflict began in Darfur in 2003.
The eight-year conflict in Sudan's western region between various rebel groups and government-backed militias is estimated by the UN to have cost the lives of 300,000 people and driven 2.7m people from their homes.
The government puts the death toll at 10,000 and has said the problems in Darfur have been exaggerated for political reasons.
A 23,000-strong joint United Nations and African Union peace force (Unamid) is on the ground in Darfur.
'Fatigued and bruised'
Ms Mohammed, from Darfur's largely Muslim Fur ethnic group, was working as a language assistant and community activist with a focus on gender issues for Unamid.
Reports suggest that she was moved to Khartoum after her arrest on 6 May.
"Since her arrest a photo of Hawa Abdullah has been shown on Sudan's state-run news website, where she looks fatigued and bruised, increasing concerns that she is at risk of torture and other ill-treatment," Amnesty USA said in a statement.
The government-linked SMC news agency said she was in charge of "organisational affairs" at the military office of the Sudan Liberation Movement faction led by Abdel Wahid Mohamed el-Nur.
"The source explains that Hawa participated in assaults actions against chiefs in camps and planned to lead attacks against some foreign organisations at Abu Shouk camp besides smuggling false foreign currency into the country to destroy the national economy," the agency reported.
US-based Human Rights Watch says Ms Mohammed was detained for six days in 2009, after the International Criminal Court issued an arrest warrant for Sudan's president, and was "seriously injured during her interrogations".
President Omar al-Bashir has denied the accusations of war crimes and crimes against humanity in Darfur - and later charges of genocide.
Rebels in Darfur began attacking government targets in early 2003, accusing Khartoum of oppressing black Africans in favour of Arabs.
Ms Mohammed told the BBC in interviews in 2007 and 2008 about how her family, including her nine younger siblings, fled their home near Tawila when it was attacked by Janjaweed Arab militia on horses, camels and in vehicles.
She described how they walked for days to find protection and how many women were attacked on the way, others were raped - even some from her own family.
Amnesty USA and Human Rights Watch are calling on the authorities to ensure that Ms Mohammed has access immediate access to a lawyer, her family and any medical treatment she may require.
Amnesty USA is also appealing to Sudan's government to put an immediate stop to the harassment and intimidation of activists in Sudan and to respect their right to freedom of expression and peaceful assembly.