Michelle Obama meets Nelson Mandela in South Africa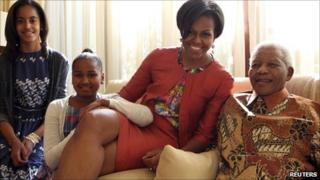 US First Lady Michelle Obama has met South Africa's former President Nelson Mandela, on the first day of her two nation-tour of southern Africa.
Mr Mandela's charity said Mrs Obama, her mother and two daughters made a short courtesy visit.
The BBC's Karen Allen in Johannesburg says the 92-year-old hero of the struggle against apartheid is now frail and rarely receives visitors.
The trip is intended to champion the importance of youth leadership.
The tour is the first lady's second official solo visit abroad since her husband Barack Obama became president in 2009.
She is due to meet South Africa's current leader Jacob Zuma before going to Botswana.
Jail visit
The first lady met Mr Mandela after visiting the archives at Nelson Mandela Foundation in Johannesburg where Graca Machel, Mr Mandela's wife, showed the group around.
She is also expected to visit the apartheid museum in Johannesburg and the township of Soweto, which lay at the heart of the fight against white minority rule.
The visit to South Africa will also include going to Robben Island, where Mr Mandela spent 18 years of his 27 years in jail.
Mrs Obama was welcomed to South Africa on Thursday evening after landing at a military airport in the capital, Pretoria, where her daughters Malia and Sasha were given large blankets with colours of the South African flag to ward off the chill.
Our correspondent says the first lady is seen as role model in her own right and will meet South Africa's young women leaders on Wednesday as she makes her keynote address.
"This trip by the first lady is very directly connected to the president's agenda in Africa and the Obama administration's foreign policy in Africa," Mr Obama's deputy national security adviser Ben Rhodes said last week, according to Reuters news agency.
"It's no coincidence that she would be visiting countries that have embraced democracy," he said.