Madagascar profile - Leaders
President: Hery Rajaonarimampianina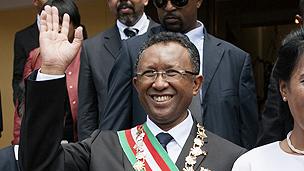 Hery Rajaonarimampianina was chosen as president in January 2014 in an election seen as a major step towards restoring democracy.
The African Union lifted its four-year suspension of Madagascar shortly after his swearing-in, hailing what it called "inclusive, credible and legitimate" elections, the first since a 2009 coup.
Hery Rajaonarimampianina, 55 at the time of taking office, called for national unity and reached out to political rivals to help return the country to its past glory.
The Canadian-educated former finance minister was backed in the elections by the country's former strongman Andry Rajoelina.
Mr Rajoelina, and the man he ousted in the 2009 coup, Marc Ravalomanana, were barred from standing in the presidential elections under the terms of a deal brokered by regional African states meant to end the political turmoil.
The 2009 coup plunged Madagascar into a political crisis that sharply slowed economic growth and deepened poverty, and Mr Rajaonarimampianina failed to make any significant progress in improving the situation.
In May 2015 the parliamentary supporters of both Mssrs Rajoelina and Ravalomanana united to recommend the president's impeachment, once again throwing the country into constitutional turmoil.