Madagascar profile - Media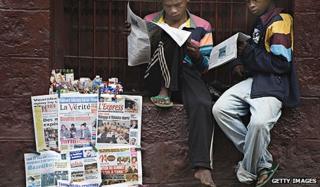 The restoration of democratic rule in 2014 has led to "a decline in censorship of content and political interference with outlets", according to a 2015 report by Washington-based advocacy group Freedom House.
Following a coup in 2009, the Rajoelina government closed several outlets and radio stations were the target of physical attacks.
Censorship, harassment and intimidation were also reported.
Although nationwide broadcasting remains a state monopoly, there are hundreds of private local radio and TV stations. Radio is the main medium for news.
There were 1.1 million internet users by November 2015 (Internetworldstats.com).
Press
Television
Radio
Malagasy National Radio (RNM) - state-owned
Radio Don Bosco - Catholic
Radio Lazan' Iarivo (RLI) (Glory of Iarivo) - private
Radio Antsiva - private