Malawi profile - Leaders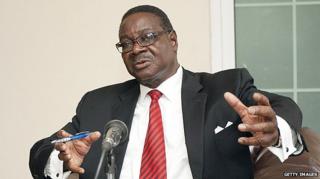 President: Peter Mutharika
Peter Mutharika won the presidential election in May 2014, two year after his brother, Bingu wa Mutharika, died while serving as president.
The law professor took over the leadership facing treason charges for attempting to conceal his brother's death in an alleged bid to prevent Joyce Banda - then vice-president - from assuming power.
He describes the charges as frivolous and politically motivated; they were dropped upon his becoming president.
As a former foreign minister and his brother's right-hand man, he was also a leading member of an administration widely blamed for bringing the economy to its knees through years of mismanagement.
At the time of Bingu wa Mutharika's death in 2012, stores were often empty, service stations dry and, shunned by international donors, Malawi had largely depleted its currency reserves.
On taking office the new president said his priorities were the economy and youth employment.
Mr Mutharika - aged 74 at the time of taking office - won the poll with just over 36% of the vote, beating the outgoing leader Joyce Banda into third place.