Malawi profile - Media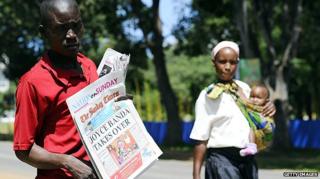 Radio is the medium of choice, and state-run MBC is the main national broadcaster. A state TV station opened in 1999.
The private press presents a range of opinions, although the government has used libel and other laws to put pressure on newspaper journalists. Self-censorship is common, particularly at state-run outlets, says US-based Freedom House.
Changes to the Penal Code, adopted in 2011, allow the information minister to stop the publication or importation of a print title on the grounds that it would be against the "public interest".
BBC World Service is available on FM in Blantyre (98.7), Lilongwe (98.0) and Mzuzu (87.9).
By late 2011, 716,000 Malawians were using the internet (Internetworldstats.com).
Press/online
Television
Television Malawi (TVM) - state-run
Radio