Libya: ICC sets date for Gaddafi arrest warrant ruling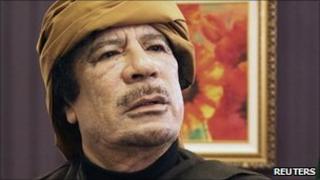 The International Criminal Court has said it will decide on Monday whether to issue an arrest warrant for Libyan leader Col Muammar Gaddafi.
The panel of judges will also decide whether to seek the arrest of Col Gaddafi's son, Saif, and his intelligence chief Abdullah al-Sanussi.
Libyan officials have previously said they will ignore such a move.
The chief ICC prosecutor says the three men bear responsibility for "widespread and systematic attacks" on civilians.
Luis Moreno-Ocampo says the court has evidence showing Col Gaddafi "personally ordered attacks on unarmed Libyan civilians" and is behind the arrest, torture and disappearance of his opponents. Saif al-Islam and Mr Sanussi are accused of similar crimes.
The charges cover the days following the start of anti-government protests on 15 February. Between 500 and 700 people are believed to have been killed in that month alone and thousands more as the conflict continued.
Libya does not recognise the authority of the ICC, but Mr Moreno-Ocampo said it would be legally obliged to act on the warrants if they were issued.
Earlier this month he told Spain's El Mundo newspaper the court was "working on the assumption he will be arrested by his people" or by members of the rebels' National Transitional Council.
In a televised addressed on Wednesday evening, Col Gaddafi again insisted that attempts to remove him from power would not work.