Libya rebels 'in secret talks' with Tripoli underground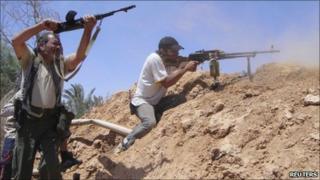 The Libyan rebels in the east are in close contact with an underground network of opponents of Col Muammar Gaddafi in Tripoli, the BBC has learnt.
A member of the rebels' National Transitional Council (NTC) in Benghazi revealed they were holding secret talks to prepare for the regime's fall.
The member said the talks were being held via Skype and satellite phones.
The rebels want to gauge the impact of pressure from Nato air strikes and shortages on morale in Tripoli.
Secondly, they want to involve the Tripoli underground opposition in their general strategy for ousting Col Gaddafi, so that if anyone is emboldened to take to the streets again in the capital it is woven into a bigger plan.
Nightly talks
They call them the "Tripoli Five" - the five members of the NTC who, from their stronghold of Benghazi, every night contact the network of more than 100 people in Tripoli.
They believe they have found a way to bypass attempts by the Gaddafi regime to monitor them.
NTC member Alamin Belhaj says he believes direct communications through Skype and satellite phones are secure "because no-one has been arrested yet".
"We talk for about an hour every night. The network covers all sectors of society and they tell us what their friends are thinking, or what's being said in mosques and on the streets."
Mr Belhaj is well placed to help run the clandestine network. For 30 years he was in the opposition to Col Gaddafi, as a leading member of the once-banned Libyan Muslim Brotherhood, based first in Tripoli and then in exile in Manchester.
"We have very good experience of working underground. In 30 years we were never infiltrated," he says.
Now he has joined the rebel task force, which is trying to prepare Tripoli for the day when Col Gaddafi falls.
Timing
Mr Belhaj thinks that there are signs that those opposed to the Libyan leader are growing less fearful and that the regime is weakening. He cites reports from government workers, who say they have turned up to work and found the officials in charge have vanished.
He says others report that the number of pro-Gaddafi militia on street patrols seems to be declining, as though they have been pulled off for duties elsewhere.
"We are 100% sure there will be an uprising in Tripoli, the only thing is the timing," says Mr Belhaj.
What the rebel leadership does not want is a repeat of the pattern that followed the liberation of Benghazi in late February.
Then, when people staged anti-Gaddafi demonstrations in Tripoli, their protests were small, unco-ordinated and easily crushed.
This time the rebel leadership hopes that their contacts with the Tripoli underground will ensure better co-ordination, so that a planned military push against Gaddafi troops from the south, west and east will be matched by an insurgency from within the capital, which - they hope - his loyal forces will be too thinly stretched to put down.
"We will all do it together," says Mr Belhaj.
'Biggest danger'
But there is another task for the Tripoli underground network - laying plans to try to avoid a bloodbath if and when the regime falls.
"We believe Gaddafi is planning something in case he goes," says Mr Belhaj.
"And we are afraid of the [pro-Gaddafi] revolutionary committees and the part of the security services that protect the regime. We must have a comprehensive plan to prepare for the worst-case scenario of what might happen if he loses power."
So, he says, the rebels are reaching out to professionals and technocrats, especially police and army officers who are apparently still loyal to Col Gaddafi, but who have secretly assured the rebels that they will swap sides and take orders from the NTC if he goes.
In this way the rebel leadership hopes to avoid looting, sabotage and general mayhem in the city.
"Many people in the army and police tell us that now they are with Gaddafi, but they will be with us when the moment comes. That's the clear message they've giving us," says Mr Belhaj.
None of this is easily verified. Much could be wishful thinking or even pure propaganda.
Some rebel leaders in Benghazi confirmed the general gist of what is apparently being planned. Others were tight-lipped, citing national security considerations.
So why, I asked Mr Belhaj, was he willing to share with the world through the BBC all these apparently clandestine details about what the NTC is hoping and planning?
"Because the biggest danger for us is failing to keep people informed," he answered.
"People are beginning to ask questions about what we in the NTC are doing. We need to start preparing them for when the regime falls."