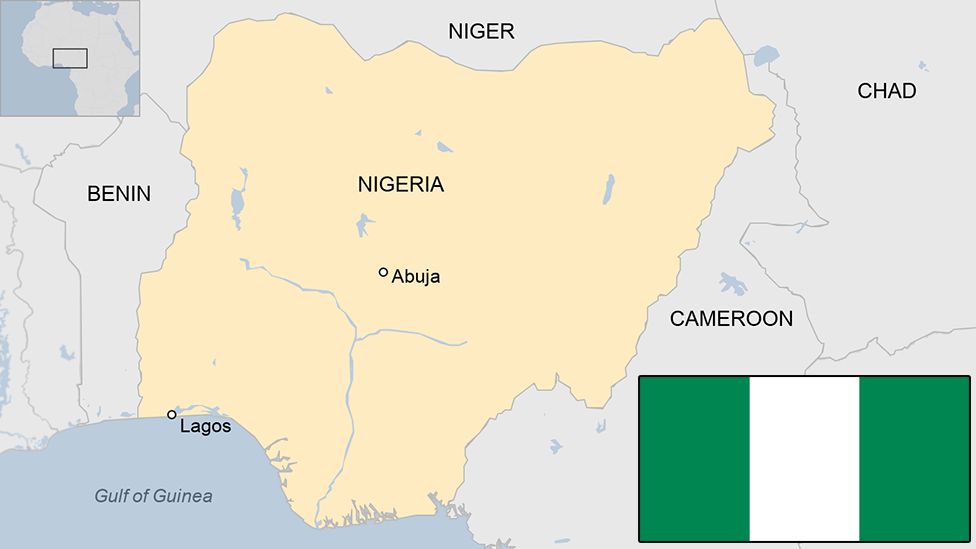 Nigeria is the most populous country in Africa, with the modern state taking its present territorial shape as a result of 19th Century British colonialisation.
It became independent in 1960 and saw a 1967-70 civil war when the breakaway state of Biafra declared its independence. This was followed by a series of military dictatorships and civilian governments until achieving a stable democracy in the 1999 presidential elections.
Nigeria is a multinational state inhabited by more than 250 ethnic groups speaking over 500 distinct languages. The three largest ethnic groups are the Hausa in the north, Yoruba in the west, and Igbo in the east.
The federal government faces the challenge of preventing the country dividing along ethnic and religious lines. Separatist aspirations have also been growing, and the imposition of Islamic law in several northern states has embedded divisions.
The country is one of the world's largest oil producers, but few Nigerians, including those in oil-producing areas, have benefited.
FEDERAL REPUBLIC OF NIGERIA: FACTS
Capital: Abuja
Area: 923,769 sq km
Population: 225 million
Languages: English, Hausa, Yoruba, Igbo, plus regional languages
Life expectancy: 59 years (men) 63 years (women)
President-elect: Bola Tinubu
Bola Tinubu, of the the ruling All Progressives Congress (APC), won the February 2023 presidential elections against the opposition People's Democratic Party's (PD) Atiku Abubakar and Peter Obi of the Labour Party.
He has pledged to be a fair leader to all Nigerians as he prepares to take over a country riddled with insecurity, corruption and a weakening economy.
Independent National Electoral Commission (Inec) declared Tinubu the winner despite opposition demands that the election be cancelled over alleged fraud.
The president-elect has said "renewed hope had dawned and landed in Nigeria" rehashing his campaign slogan to declare he will fulfil pledges he made to the citizens.
Those promises included fixing the country's security challenges, addressing youth unemployment and reviving the nation's economy.
He will take over from outgoing President Muhammadu Buhari who backed the president-elect's candidature to succeed him and build on the legacy of the ruling party in the last eight years.
Tinubu's moves since the mid-2000s have earned him the nickname "Mr fix it" of Nigerian politics. He has been credited with the formation of the APC - a merger of four opposition parties in 2013 - and the electoral successes of Buhari, Vice-President Yemi Osinbajo and a host of governors in south-west Nigeria.
Nigeria is one of Africa's biggest media markets. There are hundreds of radio stations and terrestrial TV networks, as well as cable and satellite platforms.
Journalists face threats and violence in the course of their work. Reporters Without Borders (RSF) says that "the level of governmental interference in the news media is significant".
Many millions of Nigerians are online, and WhatsApp and Facebook are leading social platforms.
Some key dates in Nigeria's history:
11th Century onwards - Formation of city states, kingdoms and empires, including Hausa kingdoms and Borno dynasty in north, Oyo and Benin kingdoms in south.
1472 - Portuguese navigators reach Nigerian coast.
16-18th Centuries - Slave trade sees Nigerians forcibly sent to the Americas to work on plantations.
1809 - Islamic Sokoto caliphate is founded in north.
1850s - British establish presence around Lagos.
1861-1914 - Britain consolidates its hold over what it calls the Colony and Protectorate of Nigeria, governs through local leaders.
1850s - Britain establishes presence, which it consolidates over the next 70 years as the Colony and Protectorate of Nigeria.
1922 - Part of former German colony Kamerun is added to Nigeria under League of Nations mandate.
1960 - Independence, with Prime Minister Sir Abubakar Tafawa Balewa leading a coalition government.
1966 - Mr Balewa killed in coup. Maj-Gen Johnson Aguiyi-Ironsi forms military government. He is killed in a counter-coup and replaced by Lieutenant-Colonel Yakubu Gowon.
1967 - Three eastern states secede as the Republic of Biafra, sparking a bloody three-year civil war.
1975 - General Gowon overthrown by Brigadier Murtala Ramat Mohammed, who begins process of moving federal capital to Abuja.
1976 - General Mohammed assassinated in failed coup attempt. Replaced by his deputy, Lt-Gene Olusegun Obasanjo, who helps introduce US-style presidential constitution.
1983 - Major-General Muhammadu Buhari seizes power in a bloodless coup, ushering in a period of political instability capped by the 1999 presidential and parliamentary elections.
1995 - Ken Saro-Wiwa, writer and campaigner against oil industry damage to his Ogoni homeland, is executed following a hasty trial. In protest, European Union imposes sanctions until 1998, Commonwealth suspends Nigeria's membership until 1998.
2000 - Adoption of Islamic law by several northern states in the face of opposition from Christians.
2006 - Nigeria agrees to cede sovereignty over the disputed Bakassi peninsula to neighbouring Cameroon under the terms of a 2002 International Court of Justice ruling. Transfer takes place in 2008.
2009 - Boko Haram jihadists launch a campaign of violence that spreads to neighbouring countries.
Government frees the leader of the Niger Delta militant group Mend, Henry Okah, after he accepts an amnesty offer.
2013 - Government declares state of emergency in three northern states of Yobe, Borno and Adamawa and sends in troops to combat Boko Haram.
2014 - Boko Haram kidnaps more than 200 girls from a boarding school in northern town of Chibok, the incident draws international outrage.
Boko Haram switches allegiance from al-Qaeda to the Islamic State group.
2015 - Muhammadu Buhari wins presidential election - first opposition candidate to do so.
Related Internet Links
The BBC is not responsible for the content of external sites.