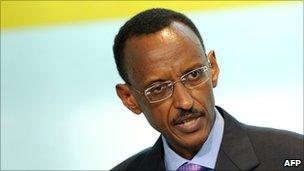 Paul Kagame has run Rwanda since his rebel army ended the slaughter of hundreds of thousands of people in 1994.
He was sworn in as vice-president and defence minister in the new, post-genocide government in July 1994, but was widely seen as the real power in Rwanda.
In 2000 parliament elected him president. He won presidential elections in 2003 and again in 2010, and gained approval by referendum to stand for an unprecedented third term in 2017.
To his admirers he is a visionary leader, but to his critics he is a despot who tolerates no opposition.
He has won praise for trying to turn a land of subsistence farmers into a middle-income country by 2020 - Rwanda was named the world's top reformer in the World Bank's Doing Business Report 2010.
At home Mr Kagame has been criticised for trampling on freedoms, building up the army to assert his authority, and using anti-genocide legislation to clamp down on opponents.
Mr Kagame, born in 1957, left the country as a young child when around half a million fellow-Tutsis fled following a bloody Hutu-led revolution.
His family settled in Uganda, and Mr Kagame later helped Ugandan President Yoweri Museveni come to power.
From 1990 he led the military arm of the Rwandan Patriotic Army (RPF) in its war against the Hutu-controlled government.
His force ended the 1994 genocide, in which Hutu death squads killed some 800,000 Tutsis and moderate Hutus. The RPF seized control of Rwanda after driving the 40,000-strong Hutu army and more than two million civilian Hutus into exile in neighbouring countries.