Seychelles profile - Timeline
A chronology of key events: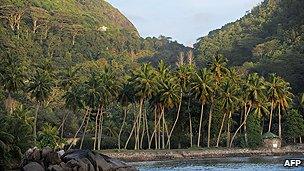 1502 - Portugal's Vasco da Gama explores the Seychelles.
1768 - French planters and their slaves begin settling in the Seychelles.
1794 - Britain annexes the Seychelles, which are then administered from Mauritius.
1903 - Seychelles become a separate British colony.
1948 - First elections to a legislative council take place.
1964 - First political parties are formed: France Albert Rene's socialist Seychelles People's United Party and James Mancham's pro-business Seychelles Democratic Party.
1966, 1970 - The Seychelles Democratic Party wins legislative elections.
1976 - Seychelles become independent and are governed by a coalition, with James Mancham as president and France Rene as prime minister.
1977 - Rene's supporters stage a coup against Mancham ostensibly without Rene's knowledge; Rene installed as president.
1978 - Rene enacts a new constitution, turning the Seychelles into a one-party state.
1981 - South African-based mercenaries try but fail to restore Mancham to power.
1982 - Army mutiny thwarted.
1991 - President Rene restores multiparty democracy.
1993, 1998 - Rene re-elected in multiparty ballots.
1998 - Rene's Seychelles Progressive People's Front wins 30 out of 34 seats in parliamentary elections.
2001 September - President Rene wins another term in office with 54% of the votes, beating opposition candidate Wavel Ramkalawan who won 45% of the votes.
2002 December - President Rene's Seychelles Progressive People's Front wins parliamentary elections, but the opposition Seychelles National Party increases its presence from one to 11 seats.
2003 July - Economic reforms are introduced under which Seychelles will pull out of the Southern African Development Community (SADC) and close three diplomatic missions.
2004 April - President Rene steps down, replaced by former vice president James Michel.
2004 December - Widespread damage is reported after giant waves, generated by an underwater earthquake off Indonesia, hit three islands.
2006 July - President Michel wins presidential race.
2006 October - Parliament bans political or religious organisations from running radio stations, sparking a rare outbreak of unrest.
2007 May - The ruling SPPF wins early elections. They were brought forward after opposition MPs boycotted parliament over moves to ban political parties from owning radio stations.
2008 November - International Monetary Fund agrees a two-year $26-million rescue package for the indebted Seychelles economy.
2009 January - President Michel asks creditors to cancel half the archipelago's $800 million foreign debt. The economy has been hit by reduced tourist traffic and turmoil in the world's financial markets.
2009 April - Somali pirates move their operations southwards to Seychelles and beyond as patrols are stepped up in the Gulf of Aden.
2009 October - US says it will supply Seychelles with drone spy-planes to help fight piracy. France offers legal help.
2009 November - Seychelles, European Union sign anti-piracy agreement which will allow EU troops to be deployed on the islands.
World Bank approves $9 million loan to help indebted Seychelles to restore economic stability.
2010 July - First successful prosecution of pirates in Seychelles. Eleven Somalis are jailed.
2010 August - Seychelles signs up to International Criminal Court.
2011 May - President Michel re-elected.
2012 April - A US drone crash lands after take-off from the islands, which are reportedly being used as a base for flights monitoring pirates and Somalia.
2013 April - Sakher El Materi, the son-in-law of ousted Tunisian president Zine al-Abidine Ben Ali, is granted asylum in the Seychelles. The move prompts a diplomatic tussle with Tunisia, which seeks his extradition.
2013 April - Seychelles signs a tax exchange agreement with The Isle of Man, as part of moves to develop closer economic and taxation co-operation.
2015 December - President James Michel wins a third term by the narrowest of margins, beating Seychelles National Party leader Wavel Ramkalawan.
2016 May - Seychelles becomes one of a minority of African countries to decriminalise gay sex.
2016 September - Opposition LDS wins parliamentary elections, breaking the ruling party's four-decade grip on power.
2017 November - The Seychelles features in the 2017 leak dubbed the Paradise Papers, which reveal the financial dealings of politicians, celebrities, corporate giants and business leaders.
2018 February - Seychelles announces plans to create a marine reserve as part of a national debt swap deal which could serve as a model for future conservation projects around the world.
2020 October - Wavel Ramkalawan wins the presidency in the first peaceful transfer of presidential power between different parties since independence in 1976. His Linyon Demokratik Seselwa also wins parliamentary elections.