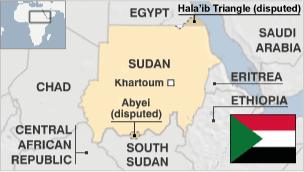 Sudan, once the largest and one of the most geographically diverse states in Africa, split into two countries in July 2011 after the people of the south voted for independence.
The government of Sudan gave its blessing to an independent South Sudan, where the mainly Christian and Animist people had for decades been struggling against rule by the Arab Muslim north.
However, various outstanding issues - especially the question of shared oil revenues and border demarcation - have continued to create tensions between the two successor states.
Sudan has long been beset by conflict. Two rounds of north-south civil war cost the lives of 1.5 million people, and a continuing conflict in the western region of Darfur has driven two million people from their homes and killed more than 200,000.
Republic of Sudan
Capital: Khartoum
Population 39.5 million

Major languages Arabic, English (official)

Major religion Islam

Life expectancy 63 years (men), 66 years (women)

Currency Sudanese pound
Getty Images
Head of State: Lt-Gen Abdel Fattah al-Burhan
Lieutenant-General Abdel Fattah al-Burhan was sworn in as chairman of Sudan's ruling Transitional Military Council on 12 April 2019, a day after the army overthrew veteran President Omar al-Bashir.
This followed months of street protests against President Bashir's authoritarian rule.
The military said the Council would lead Sudan through a two-year transition to civilian rule, but opposition groups demanded a quicker transfer.
The African Union and Ethiopia negotiated a power-sharing deal that put a joint civilian-military government in place in September.
The military dismissed the civilian ministers in a coup in October 2021, but restored Prime Minister Abdalla Hamdok following a month of protests. Most civilian parties refused to support the new power-sharing deal.
Lt-Gen Burhan has been accused of involvement in atrocities during military operations against non-Arab civilians in Darfur in 2003, when he was chief of ground forces.
Sudanese broadcasting is highly restricted and state TV and radio reflect government policy.
The private press carries opposition views, but the state uses its powers to influence what is published.
More than a quarter of Sudanese citizens are online, but access can be prohibitively expensive. Activists have faced arrest for their social media activities.
Some key dates in Sudan's history:
1821 - Ottoman Empire conquers northern part of the country.
1899-1955 - Sudan is under joint British-Egyptian rule.
1956 - Sudan becomes independent.
1983 - President Numeiri introduces Sharia Islamic law.
2003 - Start of conflict in Darfur region.
2009 - International Criminal Court issues an arrest warrant for President Omar Bashir on charges of war crimes and crimes against humanity relating to the drawn-out conflict in Darfur.
2011 - South Sudan gains independence following years of war with the central government in Khartoum.
2019 - Army ousts President Bashir after months of protests against his rule.
Related Internet Links
The BBC is not responsible for the content of external sites.