Tanzania profile - Media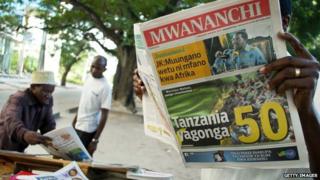 Television is eroding radio's traditional dominance, and Tanzania has made the switchover to digital TV.
Dozens of private FM radio stations are on the air, most of them in cities.
News from international radios - including the BBC, Voice of America and Germany's Deutsche Welle - is carried by many stations.
Reporters Without Borders says abuses against journalists and media, including closures, threats, attacks and arrests, are frequent.
Freedom House says a "restrictive" Media Services Bill was introduced in 2016, replacing independent media oversight arrangements with a state-run one.
The mainland and Zanzibar have separate media policies. Islanders can pick up broadcasts from the mainland and read the mainland Tanzanian press.
There were nearly 20 million internet users by 2016, according to the communications regulator.
The press
Television
Radio