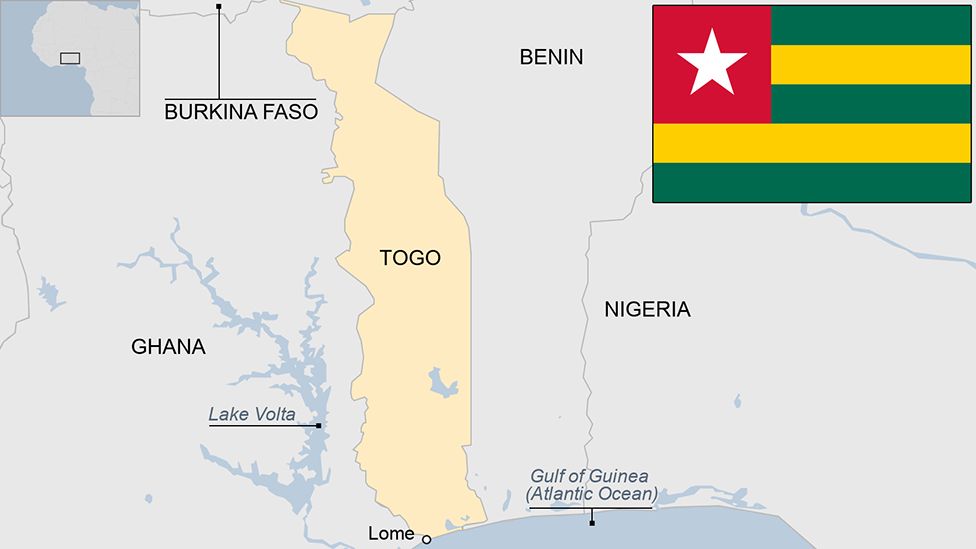 Togo, a narrow strip of land on Africa's west coast, has for years been the target of criticism over its human rights record and political governance.
Gaining independence from France in 1960, Togo has struggled to build a stable economy.
It is one of the world's top five producers of phosphates, which are used in fertilisers, but remains poor and dependent on foreign aid.
Capital: Lomé
Area: 56,785 sq km
Population: 8.4 million
Languages: French, Ewe, Kabiye
Life expectancy: 60 years (men) 62 years (women)
President: Faure Gnassingbe Eyadema
Faure Gnassingbe Eyadema succeeded his father, who died in 2005 after ruling the country with an iron fist for 38 years.
The military installed Faure Gnassingbe as president, but following intense domestic and international pressure he called elections. Hundreds died challenging his victory in those polls.
Gnassingbe has won three more elections, in 2010, 2015 and 2020. All of the elections have been criticised by the opposition, who have alleged instances of widespread fraud.
Constitutional changes in 2019 allowed President Gnassingbe to seek re-election and potentially stay in office until 2030 - an issue that sparked huge protests in 2017-18.
Togo has a varied media landscape. However, press freedom depends on the political environment.
During election campaigns media outlets come under pressure. "The state and political figures exert strong influence on how news is handled", says the NGO Reporters Without Borders (RSF).
Some key events in Togo's history:
15-17th Centuries - Ewe clans from Nigeria and the Ane from Ghana and Ivory Coast settle in region already occupied by Kwa and Voltaic peoples.
16th-19th Centuries - Atlantic slave trade begins in 1500s and the coastal region becomes a trading centre for Europeans in search of slaves.
1884 - German protectorate of Togoland established.
1914 - German Togoland is occupied by British and French forces.
1916 - Joint rule by UK and France collapses and Togoland is partitioned into British and French zones, creating the colonies of British Togoland and French Togoland.
1922 - League of Nations confirms this division, the mandate to govern the western part of the country is handed to Britain, while France is given the eastern area.
1957 - British Togoland votes to join the Gold Coast as part of the independent nation of Ghana.
1959 - French Togoland becomes an autonomous republic within the French Union.
1960 - Togolese Republic becomes independent.
1961 - Sylvanus Olympio becomes first president in elections boycotted by the opposition. Opposition parties are dissolved. Country brecomes one-party state.
1963 - Olympio is assassinated in an army coup. One of the leaders is Gnassingbé Eyadéma. The military hands over power to an interim government led by Nicolas Grunitzky who initiates political reforms.
1967 - Gnassingbé Eyadéma seizes power, political parties are dissolved.
1992 - New constitution approved.
1993 - President Eyadéma dissolves government, sparking protests and fatal clashes with police. Thousands flee to neighbouring countries.
2005 - President Eyadéma dies. The military appoints his son Faure as president He goes on to win elections that year and subsequently. Opposition parties denounce the results as fraudulent.
2022 - Togo and Gabon join the Commonwealth.
Related Internet Links
The BBC is not responsible for the content of external sites.