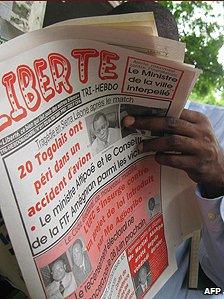 Private media have proliferated; there are dozens of commercial and community radios and weekly newspapers, as well as a handful of private TV stations.
However, many private media firms have shaky finances and lag behind state-owned rivals in attracting advertising revenue.
Radio is the most popular medium, particularly in rural areas. The main TV station is government-owned Television Togolaise. The government also operates Togo-Presse daily.
The BBC broadcasts in the capital on 97.5 FM.
Concerns about media freedom increased after a penal code criminalising defamation and false news was introduced in 2015.
There were 545,000 internet users by 2016 (Internetlivestats). Some media outlets found that access to their websites was restricted when election results were announced in 2015.
Radio Togolaise - state-run national radio, via shortwave, mediumwave (AM) and FM
Radio Lome - state-run FM station for Lome
Radio Kara - state-run station in north
Zephyr FM - private
Nana FM - private, Lome