Tunisia profile - Leaders
President: Mohamed Beji Caid Essebsi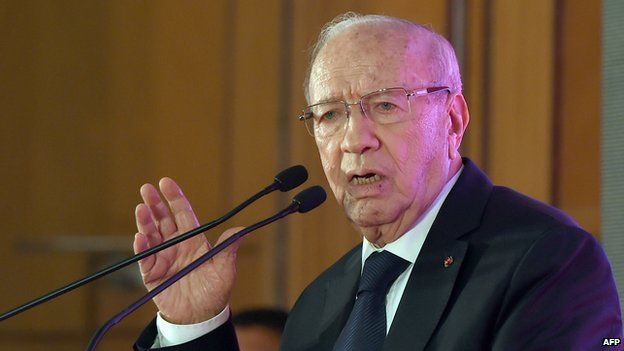 Beji Caid Essebsi came to office in December 2014 after winning the first free presidential election since the uprising that toppled autocratic leader Zine al-Abidine Ben Ali.
Mr Essebsi, who was a long-serving speaker of parliament under Mr Ben Ali's rule, defeated the incumbent, veteran dissident Moncef Marzouki, in the run-off of a vote polarised between Islamists and their opponents.
His secular Nidaa Tounes party also replaced the Islamist Ennahda party as the largest party in parliament.
Mr Marzouki had been elected by an interim constitutional assembly in 2011, after Mr Ben Ali was ousted in the first "Arab Spring" uprising.
Some accused Mr Marzouki of failing to restrain Ennahda's authoritarian tendencies while in office.
In his victory speech, Mr Essebsi stressed the need for reconciliation after a heated campaign, promising to be a "president of all Tunisian men and women".
Critics believe his rise to power marks the return of the Ben Ali-era political establishment.
Born in 1926, Mr Essebsi trained as a lawyer and entered politics as a supporter of Tunisia's independence leader, Habib Bourguiba.
After independence from France in 1956, he served Mr Bourguiba and his successor, Mr Ben Ali, in various security, defence and foreign affairs-related posts before becoming speaker of the Chamber of Deputies in 1990. In the wake of the 2011 revolution, he was briefly interim prime minister.
Prime Minister: Habib Essid
A long-serving agriculture official under President Ben Ali, Mr Essid was interior minister and security adviser in various governments after the 2011 "Arab Spring" uprising before President Essebsi appointed him prime minister in early 2015.
His secular coalition of the president's Nidaa Tounes and Free Patriotic Union also includes representatives of the liberal Afek Tounes and Islamist Ennahda parties, in order to maintain a stable parliamentary majority. Mr Essid soon faced serious challenges from a campaign of violence by the Islamic State extremist group, which killed more than 60 people in two attacks targeting tourists at the Bardo Museum and the resort of Sousse. He responded firmly by announcing a crackdown on Islamist extremists and mosques that preach their message.