Horn of Africa drought: Kenya row over Somali refugees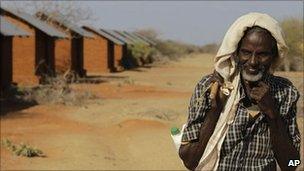 A row has broken out in Kenya's government over the huge influx of Somalis fleeing the region's worst drought in 60 years.
About 370,000 Somalis are at an over-crowded camp and the government is divided over opening a second camp.
One minister said a new camp would encourage more Somalis to cross the border.
Another minister, however, said he was "embarrassed" that Kenya was refusing to give more help to refugees.
On Monday, UN refugee agency chief Antonio Guterres held talks with Kenya's Internal Security Minister George Saitoti to appeal to him to open the Ifo II camp, which is near completion.
It has room for up to 40,000 people and would ease over-crowding at the Dadaab camp, near the Somalia border, Mr Guterres said.
Aid worker say conditions at the Dadaab camp - which is made up of three settlements - are desperate, as about 370,000 people are crammed into an area set up for 90,000 people.
On Wednesday, Kenya's Assistant Internal Security Minister Orwah Ojodeh told the BBC a new camp would not be a solution to the hunger crisis.
Instead, food relief should be provided inside Somalia as hunger not insecurity was the reason most refugees were heading for Kenya, he said.
But Immigration Minister Otieno Kajwang said he was embarrassed that the government was refusing open the Ifo II camp.
This was despite the fact that the UN had given Kenya tens of thousands of dollars for the camp, he said.
Mr Kajwang blamed the failure to open the camp on security chiefs and officials in President Mwai Kibaki's office.
"The problem is that our provincial administration [officials based in Mr Kibaki's office] and our security officers look at the huge influx as a threat to national security," he said.
"On the other hand, we see it as a crisis that must be managed. It is our responsibility under international law and our own law."
Mark Bowden, the UN humanitarian affairs co-ordinator for Somalia, told the BBC that Somalia was not yet facing a famine, but was "close" to one.
"The next few months are critical," he said.
The BBC's Will Ross in the Kenyan capital, Nairobi, says the UN World Food Programme (WFP) is exploring every possibility to increasing its presence in Somalia.
However, the WFP says it will not be able to return to areas controlled by the militant Islamist group al-Shabab unless it receives security guarantees.
Last week al-Shabab said it was lifting its ban on foreign aid agencies, provided they did not show a "hidden agenda".
Our reporter says there is clearly a desperate need for more food distribution in Somalia.
The International Committee of the Red Cross is reporting a dramatic rise in malnutrition rates even in the part of Somalia normally considered to be the breadbasket of the country, our reporter says.
Somalia's Prime Minister Abdiweli Mohamed Ali told the BBC a refugee camp has opened in the capital, Mogadishu.
The government had set aside money to help drought victims, but it had "meagre" resources.
"We are appealing to the international community to take the matter seriously and to act quickly to save as many lives as we can," he told the BBC's Focus on Africa programme.
Some 10 million people are said to be affected by the Horn of Africa's worst drought in 60 years.
Somalia, wracked by 20 years of conflict, is worst affected and some 3,000 people flee each day for neighbouring countries such as Ethiopia and Kenya which are struggling to cope.
Related Internet Links
The BBC is not responsible for the content of external sites.