UK cuts aid to Malawi government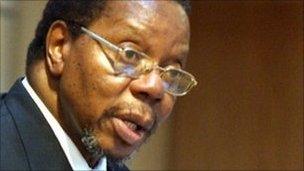 The UK has cut direct aid to Malawi following a diplomatic spat earlier this year in which each country expelled the other's envoy.
Last year, the UK gave £19m ($30m) in budgetary support to Malawi.
Fearing aid cuts, Malawi recently passed an austerity budget which did not include any foreign assistance.
The UK envoy was told to leave after he was quoted in a leaked cable as saying President Bingu wa Mutharika does not tolerate criticism.
Mr Mutharika recently explained his decision to expel Fergus Cochrane-Dyet by saying he would not accept insults just because Britain was the country's largest aid donor.
Malawi is one of the poorest countries in the world, with an estimated 75% of the population living on less than $1 (60p) a day.
The UK accuses Malawi of mishandling the economy and failing to uphold human rights.
In 2009, the UK expressed its disappointment with Malawi and reduced aid after the government purchased an extravagant presidential jet.
However, the UK is continuing to give Malawi other aid - which does not go through the government - worth about £90m ($145m) over the next year.
The International Monetary Fund (IMF) has also cut aid to Malawi, which used to rely on donors for 40% of its budget.
The austerity budget raised taxes and severely cut back on foreign travel for civil servants.
The BBC's Raphael Tenthani in Blantyre says the effects of the suspension of donor aid are already being felt.
Malawi is failing to import adequate fuel resulting in long queues at service stations. It also hard to get foreign currency in banks.
Related Internet Links
The BBC is not responsible for the content of external sites.