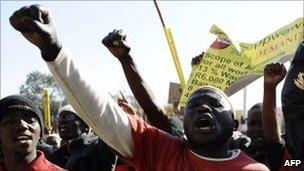 It's mid-winter in South Africa - a season of clear skies, bone-chilling temperatures, and deep, tetchy gloom.
And yet, Mr Maponya is worried about South Africa - about the angry crowds of jobless youths, the failing schools, the culture of entitlement, the cronyism in government, the widening wealth gap, the lack of urgency in tackling entrenched unemployment, and the danger that populist demagogues offering easy answers and old cliches will bring things to boiling point.
"People must be patient," he implores.
But he has an answer; an example to follow and to prove the apocalyptic commentators and Afro-pessimists wrong; a place he's visited to absorb the lessons of education's pre-eminence in economic transformation.
"Brazil," says Mr Maponya.