Winter means strike time in South Africa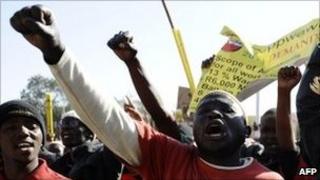 It's mid-winter in South Africa - a season of clear skies, bone-chilling temperatures, and deep, tetchy gloom.
"Strike season," shrugged the petrol station attendant, waving me away from the pumps with my tank unfilled.
This time last year, of course, the World Cup broke the icy spell of seasonal despondency. But now it's back with a vengeance, as the unions crack the whip, racial resentments resurface and politics seems more mired than ever in patronage and corruption.
The biggest current scandal, relating to some dodgy police property deals, may pale beside the News International saga, but with its tactical leaks and water muddying it shares some of the same themes, and has already begun to expose the rot within South Africa's establishment with depressing clarity.
It will be interesting to see if the canny appointment of a wily struggle veteran as President Zuma's new spokesperson will help to change the growing perception of a leader preoccupied with patronage and consensus, and too often silent on key issues.
Then there's the ongoing, vital, shrill, fascinating debate about nationalisation. Is this the start of South Africa's Zimbabwefication, a logical response to a grotesque wealth gap, intellectual posturing, or a mere symptom of political in-fighting? If you're interested in the subject, I strongly recommend this new report that puts South Africa's options into useful regional and historical perspective.
A couple of days ago - just back home in Johannesburg after spending most of the past two months in Libya - I went looking for a little perspective on the seasonal gloom at the home of Richard Maponya, 85, South Africa's first and most famous black tycoon.
Mr Maponya's business empire is expanding. He has no real problems with the unions. As we gaze out beyond the terrace and the pool towards the hadeda ibis nibbling at an immaculate lawn, life seems pretty good.
And yet, Mr Maponya is worried about South Africa - about the angry crowds of jobless youths, the failing schools, the culture of entitlement, the cronyism in government, the widening wealth gap, the lack of urgency in tackling entrenched unemployment, and the danger that populist demagogues offering easy answers and old cliches will bring things to boiling point.
"People must be patient," he implores.
But he has an answer; an example to follow and to prove the apocalyptic commentators and Afro-pessimists wrong; a place he's visited to absorb the lessons of education's pre-eminence in economic transformation.
"Brazil," says Mr Maponya.