South Africa celebrates Nelson Mandela's 93rd birthday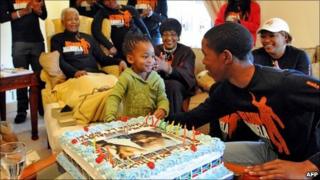 South Africans are celebrating former President Nelson Mandela's 93rd birthday.
His foundation urged people to do 67 minutes of voluntary work on the day - to represent the 67 years he devoted to South Africa's political struggle.
The anti-apartheid icon spent the day with family in his home village of Qunu in the Eastern Cape, where he was also visited by President Jacob Zuma.
Millions of schoolchildren sang him a special birthday song before lessons.
It is not clear whether the target of 12.4 million was reached to set a new world record for the number of people singing to an individual at the same time.
The song Happy Birthday Tata Madiba - specially composed for his 93rd birthday - was sung at school assemblies across the country.
President Zuma paid tribute to the Nobel Peace Prize laureate, saying he had changed the course of history.
"From the moment Nelson Rolihlahla Mandela strode out of prison on the 11th of February 1990, we knew that South Africa would be a different place.
"He showed us that despite the divisive racial oppression and hardships that this nation had gone through, it is not only possible, but necessary to embrace one another and to reconcile the South African people," the president said in a statement.
The ANC Youth League called on young people to change their profile pictures on social networking sites to an image of Mr Mandela, as "a sign of appreciation and celebration of the role [Mr] Mandela played in the struggle for political, social and economic emancipation".
Mr Mandela, who is a hero to many in South Africa and around the world for his long fight against white minority rule, has appeared increasingly frail since he retired from public life in 2004.
He has been receiving round-the-clock medical care at home following his release from hospital in January where he was treated for an acute respiratory infection, says the BBC's Nomsa Maseko in Johannesburg.
Known to South Africans by his clan name Madiba, Mr Mandela has not appeared at a public engagement since the closing ceremony of the football World Cup in July 2010.
A photo released ahead of his birthday shows him smiling and surrounded by members of his family.
'Moving'
The Nelson Mandela Foundation, backed by UN Secretary-General Ban Ki-moon, said it wanted Mr Mandela's birthday to inspire people to help make the world a better place.
"If a man could dedicate 67 years of his life to doing good for the world, imagine what we could achieve if everyone just gave 67 minutes of their time to do the same," said Said Achmat Dangor, the head of the foundation.
South African companies, charities and celebrities announced plans for voluntary work on the day.
Mr Mandela's wife, Graca Machel, spent her morning working in a community vegetable garden in Qunu, then cut a birthday cake and shared it with local children.
Mr Ban urged others around the world to do the same. "The best way we can thank Nelson Mandela for his work is by taking action for others and inspiring change," he said.
In a statement released ahead of the occasion, US President Barack Obama said Mr Mandela's life and legacy exemplified "wisdom, strength and grace".
His wife, Michelle Obama, and daughters met Mr Mandela last month in Johannesburg during a visit to South Africa.
Mr Obama said his family's time with Mr Mandela was "the most moving part of their trip".
Mr Mandela stood down as South Africa's president in 1999 after serving one term, handing over to Thabo Mbeki.
After leaving prison in 1990 following 27 years in jail, he led the African National Congress party to a landslide victory in 1994 - the first time South Africa's black majority was allowed to vote.
This story was inadvertently republished and now gives an incorrect datestamp of 2012. In fact the story refers to events in 2011.