Will Cameron's Africa trade message be heard?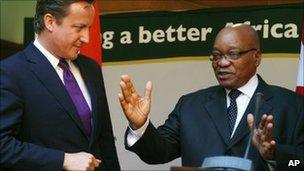 These are speedier times, but today another British prime minister is spending just one night on the continent to deliver his own message about free trade and the "economic revolution" poised to transform a region which one of his predecessors will be remembered - perhaps unfairly - for crudely branding a "scar on the conscience of the world."
Events back home have, of course, conspired against David Cameron - forcing his harried aides to chop and change what had been planned as a week-long visit. Rwanda - a particular favourite with Britain's Conservative Party - and the world's newest country, South Sudan, are no longer on the schedule.
There is a real danger now that the continent will end up being little more than a backdrop for a prime minister facing tough questions about his handling of the News International affair.
Mr Cameron's message to Africa is certainly worth reading. The headline for me is "just 12% of African trade is with other African countries" - a wretched statistic that Britain's Department For International Development and others are trying to help nudge upwards.
But is there not a sense that Britain, Europe and the US, are playing catch-up with the "Africa open for business" line? The continent's leaders certainly need encouragement to cut red tape, but just compare Mr Cameron's trip and President Obama's short visit in 2009 to the almost constant - and lengthy - shuttle diplomacy between Africa and China, and you get a sense of where the real muscle lies these days. And no, according to reports like this, Beijing is not just here to plunder.
Update 1700 local time (1500 GMT): "Rude" - with a few expletives thrown in - was the frustrated judgement of one of the 25 British business leaders accompanying David Cameron on his trip, after one of the travelling journalists attempted to ask the prime minister yet another question about the hacking scandal back home.
We were at the Johannesburg Stock Exchange for a panel discussion on the topic "Africa is open for business" - an opportunity, it was hoped, to steer this hastily re-arranged tour back towards its intended theme of promoting trade and industry.
Beforehand, the delegation mingled, briefly, with local entrepreneurs and grabbed a few canapes. PricewaterhouseCoopers took advantage of the hastily re-arranged trip to announce it will be investing more than $100m (£62m) in the continent over the next few years, but several business leaders told me they were accompanying Mr Cameron simply for a chance to "network."
Then came the panel discussion, and a clear but good-natured contrast between the free market convictions of the British leader and South Africa's own Finance Minister Pravin Gordham.
Mr Cameron enthused about Africa's economic growth and investment opportunities, and frowned on South Africa's generous state benefits, with "twice as many people in receipt of welfare as pay taxes."
Mr Gordham said South Africans needed to understand "how lucky they were," not to have experienced the sort of public sector cuts hitting the UK, but he focused on the need to make economic growth "more inclusive," to address the inequalities in society, and to ensure that geopolitical power, as well as investment, moved from the West towards Africa and the developing world. Africa has "a billion new consumers" to offer the world, he said, but that relationship needs to be "win-win."
Earlier, Mr Cameron and President Zuma seemed to agree on most things at their news conference, except Libya.
Mr Cameron initially tried to play down their differences - suggesting that it was merely a question of whether Col Muammar Gaddafi's departure was "an outcome, or a starting point." That touched a nerve, and President Zuma abruptly declared that Nato "bombing doesn't help," and that an African Union roadmap was the best way to ensure both a ceasefire and, if the Libyan people wanted it, the departure of Col Gaddafi.
Related Internet Links
The BBC is not responsible for the content of external sites.