Tunisia protests: Boy shot dead in Sidi Bouzid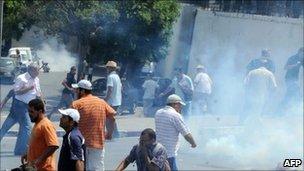 A 14-year-old boy has been killed during protests in the Tunisian town of Sidi Bouzid, police say.
He was killed by a stray bullet after police broke up the protests overnight, the official Tap news agency reports.
Police chief Samir al-Meliti said the security forces opened fire after protesters threw petrol bombs. There were reports of rioting in other parts of Tunisia on Sunday, including Tunis.
Sidi Bouzid is where Tunisia's revolution began last December.
Local street vendor Mohammed Bouazizi set himself on fire in protest at being harassed by local officials.
This led to nationwide protests, which forced longtime leader Zine al-Abidine Ben Ali to flee in January.
Six months on, many Tunisians are growing frustrated at the lack of progress under the new government, correspondents say.
Police fired tear gas in the capital, Tunis, on Friday at protesters calling for the resignation of ministers.
The government has blamed the latest violent protests on Islamist extremists.
Elections are due in October.
Related Internet Links
The BBC is not responsible for the content of external sites.