Magnus Malan, South Africa's ex-defence chief, dies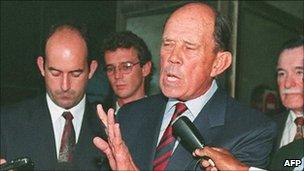 Magnus Malan, the defence minister who led apartheid South Africa's resistance to black rule, has died aged 81.
He led the white minority government's "total onslaught" strategy.
This included bombing southern African countries which supported the overthrow of apartheid and declaring a state of emergency in South Africa to end pro-democracy protests.
He became the first minister to go on trial for apartheid-era atrocities but was acquitted in 1996.
Gen Malan served as defence minister for 11 years until 1991, when then-President FW de Klerk removed him under pressure from Nelson Mandela.
Mr Mandela accused Gen Malan of setting up hit squads to kill ANC activists and destabilise South Africa ahead of democratic elections.
These took place in 1994, with the ANC winning a landslide and Mr Mandela becoming South Africa's first black president.
During the 1980s, Gen Malan sanctioned raids against anti-apartheid fighters in Angola, Lesotho, Mozambique, Zambia and Zimbabwe.
He went on trial on charges of links to the killing of 13 people in KwaZulu-Natal province in 1987 and for illegally giving paramilitary training to black opponents of the ANC.
He denounced the trial as a "dark day" for South Africa's fledgling democracy, while ANC activists blamed his acquittal on an apartheid-era judge presiding over the case.
He also led the talks which paved the way for Namibia's independence in 1990, ending its status as a South African colony.
His family said he died peacefully at home and is survived by his wife, three children and nine grandchildren.
Related Internet Links
The BBC is not responsible for the content of external sites.