East Africa drought: Power cuts in Tanzania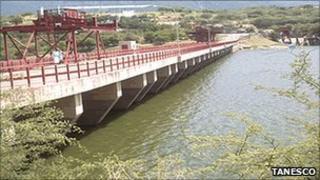 The Tanzanian authorities are imposing severe electricity rationing, to save the remaining water in its hydro-electric dams.
The dams on the Rufiji basin are at critically low levels because of the drought.
But the Tanzania Electricity Supply Company promises that essential facilities such as hospitals will not be affected.
East Africa is said to be suffering its worst drought for 60 years.
Some 10 million people need food aid, mostly in Somalia, Kenya and Ethiopia.
Tanzania relies for more than half its power on its giant hydro-electric dams.
A spokeswoman for Tanesco, Badra Masoud, told the BBC Swahili service that the lack of rainfall was to blame for the need to eke out its water supplies.
"There is going to be rationing, but not for 24 hours," she said.
"Some people won't have electricity between 20:00 to 06:00, others will lose electricity from 18:00 to 23:00.
"But places like hospitals and water pumps won't be affected," said Ms Masoud.
Hydro-electricity provides the largest share of Tanesco's power with gas and thermal power stations contributing the remainder.
The dams are expected to begin filling again once the rainy season gets under way in September.