Malawi anti-Mutharika protesters buried in Mzuzu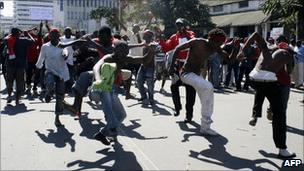 Eight anti-government protesters killed in Malawi have been buried in a mass grave after the authorities initially refused permission for the funerals.
They were buried in the northern city of Mzuzu, where half of the deaths recorded during the two days of protests occurred.
Western governments have condemned the violence, which has led to 18 deaths - many reportedly shot by police.
Protesters say the government has caused Malawi's worst economic crisis.
Prices have shot up, while there are shortages of fuel and foreign exchange after donors cut off aid, accusing President Bingu wa Mutharika of ignoring human rights.
Moses Mkandawire, director of the Church and Society rights group, told AFP news agency that authorities had wanted the burials to take place individually in each person's home village.
The protest organisers had said those killed in Mzuzu should be buried in the city's "Heroes Acre" but this was rejected by local authorities, who said the dead had been "looters".
Heroes Acre is the name given to the site where Malawi's famous pro-democracy campaigner Chakufwa Chihana was buried near Zolozolo cemetery.
Mr Mkandawire said the government itself had promised to arrange transportation for the bodies.
The protests began on Wednesday, with organisers saying Malawi was facing a "series of catastrophes".
There has been unrest in the capital, Lilongwe and the biggest city, Blantyre, as well as Mzuzu.
The protest organisers accused the government of failing to listen to the concerns of people, and they feared Malawi was turning into an "autocratic kleptocracy".
Colby Mkupa, a civil servant, waiting for hours in a queue for petrol in Lilongwe told AFP news agency that he wants Mr Mutharika to go before elections planned for 2014.
"He will destroy this country. This bunch of [academic] doctors, they've completely failed," he said.
The UK's Minister for Africa, Henry Bellingham, said the violence highlighted London's concerns about Mr Mutharika's rule.
"Any attacks or reprisals against demonstrators, opposition leaders or the media are absolutely unacceptable," he said.
Mr Mutharika - who was elected in 2004 - said he was prepared to enter into dialogue with the opposition but they should stop "sending your boys" on the streets to cause chaos.
"By allowing these people to demonstrate violently, have we solved our problems? Do we have fuel or forex [foreign exchange]? Is this democracy? Not so," he said in a national address on Thursday.
Several buildings and businesses belonging to members of the security forces and government allies have been attacked during the violence.
The government passed an austerity budget recently, raising taxes to reduce dependence on aid.
Several donor countries have cut aid recently, accusing the government of mishandling the economy and not respecting human rights.
Malawi is one of the poorest countries in the world, with an estimated 75% of the population living on less than $1 (60p) a day.
Related Internet Links
The BBC is not responsible for the content of external sites.