Rwanda genocide: ICTR overturns ex-ministers' convictions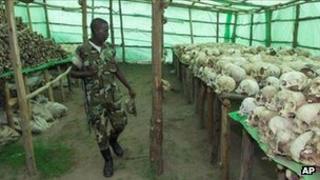 A UN-backed court has overturned the genocide convictions of two Rwandan former ministers and ordered their immediate release.
Justin Mugenzi and Prosper Mugiraneza had been sentenced to 30 years in prison in 2011 for complicity, and incitement, to commit genocide.
Analysts say Rwanda's government is likely to be angry at their acquittal.
About 800,000 people, mostly ethnic Tutsis and moderate Hutus, were killed in the 1994 Rwandan genocide.
Mr Mugenzi was the trade minister during the genocide and Mr Mugiraneza the minister in charge of civil servants.
The International Criminal Tribunal for Rwanda (ICTR) convicted them on the grounds that they had attended a meeting where a decision was taken to dismiss the prefect of the Butare region in southern Rwanda for preventing massacres from taking place and for later being present when interim President Theodore Sindikubwabo urged people to kill Tutsis.
'Influential figure'
The appeal judges, however, found that Mr Mugenzi and Mr Mugiraneza did not know that Mr Sindikubwabo was going to make the speech, AFP news agency reports.
The judges also said the dismissal of the prefect, Jean-Baptiste Habyarimana, could have been decided "for political and administrative reasons" and not necessarily in order to speed up the massacres.
Analysts say Rwanda's government is likely to be furious, especially with the acquittal of Mr Mugiraneza who was an influential figure in the government responsible for the genocide.
Rwanda's government, which is led by the Tutsi former rebels who fought the genocidal government, has been a long-standing critic of the ICTR, accusing it of being too slow and expensive.
The Ibuka genocide survivors' group, which is thought to be close to the government, has condemned the judgement.
"This acquittal is another nail in the coffin of the victims of the genocide, and a smack in the face for survivors of the genocide too," said Ibuka head Professor Jean Pierre Dusingizemungu.
"The ICTR has delivered nothing for either the victims or the survivors of the genocide, delivering no compensation for the horrific atrocities committed during the genocide planned and perpetrated by the government of which Mugenzi and Mugiraneza were indisputably members - even though the ICTR denies that they were actively involved."
The ICTR has repeatedly defended its record, saying that genocide trials at international tribunals are extremely complicated affairs.
The ICTR is due to close in 2014 after it has finalised 15 other appeal cases.
The ICTR says it has completed more than 70 cases since it was set up under a UN Security Council resolution in November 1994 to try the ringleaders of the genocide.