Dakar rally backs Senegal President Abdoulaye Wade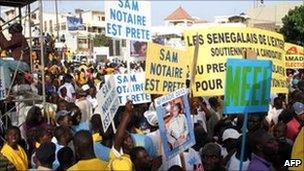 Hundreds of thousands of government supporters have rallied in Senegal's capital Dakar to back a third term for President Abdoulaye Wade.
Hours earlier, a smaller opposition demonstration called on Mr Wade not to stand in next year's election, saying a third term would be unconstitutional.
The rallies came exactly a month after violent protests forced Mr Wade to withdraw electoral reform proposals.
The site of the opposition protest was changed at the last minute.
It had been due to take place in Independence Square in central Dakar, which is near the presidential palace, but earlier this week the government banned gatherings in the city's main squares and roads.
The opposition June 23 Movement was formed after last month's countrywide protests - the most violent protests of Mr Wade's 11-year rule.
They led Mr Wade to drop his plans to reduce the proportion of votes needed to win a presidential election, and avoid a run-off, from more than 50% to 25%.
He had also wanted to create an elected post of vice-president.
Mr Wade's critics accused him of planning to use the new post to hand power to his son, already a powerful minister.
Both men have denied the claims.
Mr Wade, a veteran opposition leader, first came to power in democratic polls in 2000.