Niger 'foils plot against President Mahamadou Issoufou'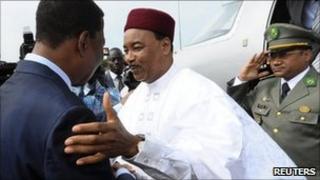 Five soldiers have been arrested in Niger for allegedly plotting to assassinate the president, a security official has confirmed to the BBC.
He said the soldiers - who included a major and a lieutenant - had allegedly planned to kill President Mahamadou Issoufou on 16 July.
Mr Issoufou was elected to office in March, ending military rule in the West African state.
Niger has had four coups since independence from France in 1960.
The official, who spoke on condition of anonymity, said the foiled assassination was to have taken place at a press conference addressed by Mr Issoufou to mark his 100 days in power.
Mr Issoufou's killing would have opened for the way for the military to recapture power, the official said.
Anger
Some sections of Niger's military have been angered by Mr Issoufou's attempts to end corruption, which has led to the dismissal of several officials, correspondents say.
Niger's military junta returned the country to civilian rule in March after domestic and international pressure.
Mr Issoufou - a long-time opposition leader and ex-mining engineer - won elections with nearly 58% of the vote.
At his inauguration ceremony, the outgoing junta leader, Salou Djibo, was decorated for his services to democracy.
The junta took power in February 2010 after overthrowing President Mamadou Tandja.
He was widely criticised for changing the constitution to extend his 10-year rule.
Last October, voters in Niger backed a new constitution which reduces the powers of the president and limits him to two terms in office.