South African man convicted of spilling whisky on Zuma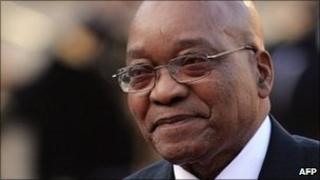 A South African man has been convicted of assault by spilling his drink on President Jacob Zuma.
Racehorse owner Daryl Peense, 31, was arrested after spilling whisky on Mr Zuma at a race meeting last July in the eastern city of Durban.
Mr Peense said it was an accident, but a bodyguard of Mr Zuma insisted that it was intentional.
A magistrate's court ruled that Mr Peense was guilty of assault and he will be sentenced in September.
'Drunk'
Mr Zuma's bodyguard, Funani Nemaenzhe, told the court he saw Mr Peense pour a drink from a balcony on to the president's entourage during the horse-racing event.
Mr Zuma did not get wet because another bodyguard protected him, the South African Press Association reported.
After the ruling Mr Peense seemed suprised by the outcome.
"I'm shocked by the ruling, it's like a big puzzle," he told South Africa's News24 news website.
Mr Peense had earlier told the court that he had been drunk when the incident happened and did not intend to harm the president.
In another incident last year, police briefly detained a student from Cape Town for 24 hours for allegedly gesturing with his middle finger at Mr Zuma's motorcade.
South Africa's Human Rights Commission ordered the police minister to apologise to the student, Chumani Maxwele.
It said Mr Zuma's bodyguards had violated Mr Maxwele's right to privacy and dignity.