Robert Mugabe's Zimbabwe land seizures 'cost $12bn'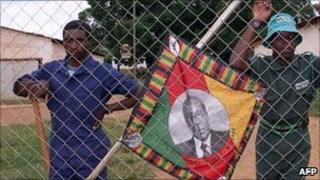 The seizure of most of Zimbabwe's white-owned land has cost nearly $12bn (£7bn) in lost production since 2000, the Commercial Farmers' Union says.
CFU head Deon Theron said agricultural production had fallen by 70%.
He also said that President Robert Mugabe and his family now "owned" 39 farms.
Mr Mugabe has always said that the land seizures were needed to correct colonial imbalances and that beneficiaries would only get one farm.
His officials have not yet commented on the report.
Mr Theron blamed the land seizures for the collapse of Zimbabwe's economy over the past decade, saying it had destroyed the country's tax base, with most of the economy now in the informal sector.
"If the aim of the land reform was to evict whites and replace them with blacks, then it can be deemed a success," Mr Theron said.
"However, if the aim was that it should benefit the majority and not only a chosen few, then it has been a failure."
In his report, Mr Theron said land had become a tool for dispensing political patronage and also names five other close allies of Mr Mugabe whose families have taken control of at least five farms each.
The CFU head said that Zimbabwe used to produce enough to feed itself and even to export but this was no longer the case.
On Tuesday, the UN said 1.4 million Zimbabweans needed food aid following crop failures.
After years of economic meltdown, Zimbabwe abandoned its currency in 2009 and now uses the US and South African money.
Mr Theron estimated that production of maize, a staple food largely grown by smallscale black farmers - the people supposed to gain most from land reform - is this year estimated to be just 50% of the 2000 levels.
Cotton, seen as a cash crop for smallscale farmers, has fallen by 45%, while tobacco, one of the country's main export earners and previously dominated by largescale white farmers, has declined by 50%.
His figures contradict a study last year by the UK's respected Institute of Development Studies, which found that land reform had not been the total economic failure generally portrayed.
This study found that most of the seized land did go to "ordinary Zimbabweans" rather than political cronies and their lives had improved as a result.
During the colonial era, much of the best land in the then Rhodesia was reserved for white people - a situation that President Mugabe vowed to reverse during his 1970s guerrilla war against white minority rule.