Senegal rapper Thiat rocks President Wade
By Thomas Fessy
BBC News, Dakar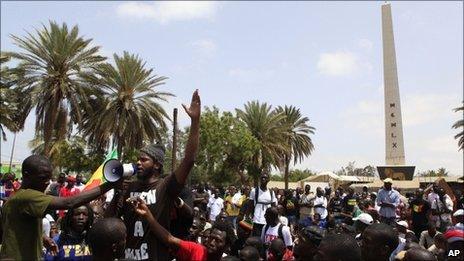 It was one of Senegal's recurrent power cuts. But on 16 January, it lasted for 20 hours.
Chatting about politics and sipping tea as they were waiting for the electricity to come back, two rappers from the popular Keur Gui band, Omar Toure alias Thiat and Mbessane Seck alias Kilifeu, together with a journalist friend, Fadel Barro, decided to create a movement to demand change.
They say they are fed up with President Abdoulaye Wade, 85, and have formed the Y'en a Marre (Enough is Enough) movement to force him to drop plans to run for a third-term in elections in February 2012.
Enough is Enough won its first victory in June.
After a day of unprecedented riots, Mr Wade was forced to withdraw a parliamentary bill that would have allowed a presidential candidate to win elections with only 25% of the vote - rather than more than 50%.
The opposition said the bill was designed to help the embattled president win the poll, but his supporters said it was intended to avoid divisive run-offs.
On the campaign trail in a Dakar neighbourhood, leaders of Enough is Enough deny they are political animals.
"This is a social and civil movement; it is apolitical and secular," says Thiat, wearing a black T-shirt that reads "New Type of Senegalese".
"We just try to help people understand what they have to do to be good citizens."
Chanting, they call on parents to send their children who are eligible to vote to register.
Enough is Enough believes Senegal's youth could play a decisive role in the elections.
An audit sponsored by the US and the European Union (EU) showed that last December that only 12% of people between the ages of 18 and 22 had voting cards.
Older Senegalese rappers, like Didier Awadi, have tried to raise awareness in the past. But, analysts say, it is the first time that a youth movement has made such a huge impact.
"They are popular because they talk to the people directly," says Senegalese sociologist Djiby Diakhate.
Enough is Enough has opened branches throughout Senegal and its activists go door-to-door to mobilise people.
The campaigning has paid off - long queues were visible outside electoral commission offices during voter registration.
"I have been waiting for three days," said Aisha, sitting in the courtyard of an old public library with about 100 people.
"We have to vote because we want the current administration to go," she said, when I asked her why she decided to register.
A group of young men barely out of their teens was reading the papers while waiting.
Landry, 18, said he was not thinking of voting before he heard Enough is Enough's message.
About 200 people had signing up every day at the old library, according to Cheikh Tidiane Ly, the electoral commission representative.
"It might be difficult to register everyone before registration closes," he said.
Under pressure from opposition groups, the authorities extended the deadline to 15 August.
"The government has tried to stop this movement," says Mr Diakhate.
"It is a genuine threat to President Wade."
Last month, after a rally, Thiat was arrested.
Enough is Enough supporters gathered outside the main court in central Dakar to protest. He was released without charge 30 hours later.
"Trying to intimidate them is a lost cause - these young people are determined and they knew they might face such problems so they were ready," says Mr Diakhate.
The campaign has not gone unnoticed by the opposition.
The head of the Senegalese Socialist Party, Ousmane Tanor Dieng, among other opposition leaders, came to show his support at the court protest.
But youth leaders refuse, for now, to back any opposition candidates.
Instead, they are trying to instil self-confidence among Senegalese youth.
"We want to break fatalism and the laxity of the Senegalese people who always wait for things to happen by saying that God is great," Thiat says.
"We need better health care, education and jobs.
"But we also need people to stop throwing garbage or peeing in the streets and to be on time when they have a meeting.
"We should not have to bribe traffic officers constantly," Thiat says.
Thiat wants people to stop being cynical about politics and to vote in elections.
With other rappers, he and Kilifeu have recorded a campaign song: "The alarm bell rings... My voting card is my weapon... It will be the solution to my suffering."
It the meantime, Mr Wade is holding firm and insists that he will run for a third term and win.
He has rallied thousands of his supporters in the capital, Dakar, to counter the campaign against him.
But will it be enough to stay in power - or will voters evict him from the presidential palace in February?
Related Internet Links
The BBC is not responsible for the content of external sites.