Sao Tome independence leader Pinto da Costa wins poll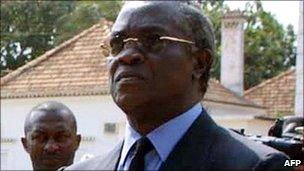 Voters in Sao tome and Principe have elected the tiny West African state's independence-era leader as president.
Manuel Pinto da Costa, a Marxist economist, ruled the two islands for the first 15 years after independence from Portugal in 1975.
Since the adoption of a multi-party system in 1991, a president has shared power with a prime minister.
Mr Pinto da Costa, 75, narrowly defeated the candidate from the prime minister's party in Sunday's run-off.
Evaristo Carvalho, who is the parliamentary speaker, gained 47% of the vote.
Eduardo Lobao, from the Portuguese news agency Lusa, told the BBC's Network Africa programme that the majority of the islands' 165,000 residents are young and have no memories of Mr da Costa's one-party rule.
But they expect the president-elect to put some pressure on the government - led by Prime Minister Patrice Trovoada - to resolve some of the country's problems, he says.
Mr Pinto da Costa's campaign focused on the need for political stability and he promised to tackle widespread corruption.
Sao Tome and Principe, once a leading cocoa producer, has large offshore reserves of oil and commercial production is expected begin within the next few years.
But arguments have arisen over how to spend the expected windfall, leading to political tension.
BBC African Service producer Zenaida Machado says his election has raised concerns among his opponents over the possibility of a move back to a one-party system.
But during his campaign he assured his supporters that things would never be like that again, she says.
In his book Terra Firme (Firm Ground), published ahead of the first round of the presidential elections, he said that lessons learnt in the past would help him build a better future for Sao Tome.
Related Internet Links
The BBC is not responsible for the content of external sites.