Sierra Leonean scouts 'missing' in Sweden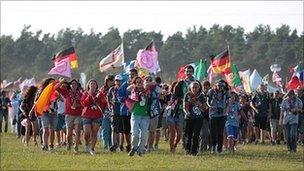 More than 10 Sierra Leonean scouts have disappeared in Sweden at the end of a 12-day World Scout Jamboree, Swedish police say.
Officers believe some of the scouts have gone to neighbouring Denmark.
One of the scouts has returned to Rinkaby city, but 11 are still missing, Sweden's The Local newspaper reports.
The BBC's Umaru Fofana in Sierra Leone's capital, Freetown, says the country's athletes have a history of absconding while on trips to the West.
Sierra Leonean athletes went missing from the Commonwealth Games in the UK and Australia in 2002 and 2006 respectively.
Our reporter says a member of the Sierra Leone Scout Association told him that his colleagues, mostly teenagers, discussed not returning home before they left for Sweden.
A Swedish police spokesperson, Helena Ralmark, said the scouts had left Sweden.
"We have witnesses who say they have left the country willingly," Ms Ralmark is quoted by the AFP news agency as saying.
"We received information that six of them were seen leaving the country [for Denmark] by train."
Akinwande Josiah Lasite, the principal of the Sierra Leone Grammar School, where two of the missing scouts came from, told the BBC he was shocked to hear that they had disappeared.
It had been a battle to get visas for them and it would be more difficult, if not impossible, to get visas in future, he said.
The missing scouts were part of a 24-member Sierra Leonean delegation at the World Scouting Jamboree in Rinkaby.
More than 39,000 scouts from 146 countries attended the event, which ended on Saturday.
Some of the Sierra Leonean athletes who went missing at the Commonwealth Games later obtained asylum while others were forced to return home.
The UK government now refuses to give the West Africa country's athletes visas because they fear they will abscond, our reporter says.
Sierra Leone is extremely poor, ranking 158 out of 169 countries in the 2010 United Nations Human Development Index.
At least 50,000 people were killed in a decade-long civil war which ended in 2001.
Related Internet Links
The BBC is not responsible for the content of external sites.