South Africa's wanted Bongani Moyo flees court on foot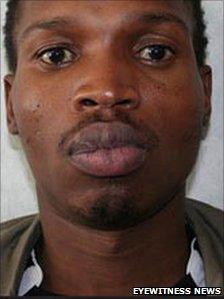 One of South Africa's most wanted crime suspects has escaped by walking out of court, apparently using crutches.
Bongani Moyo, a Zimbabwean, was due to go on trial in Pretoria for his alleged role in 35 bank robberies.
But he escaped "under the nose of the police", prisons department spokesman Phumlani Ximiya said.
South Africa has one of the highest crime rates in the world but its police are often accused of incompetence and corruption.
Mr Moyo, allegedly a gang leader, was arrested in May near the border with Zimbabwe.
His detention followed a highly publicised manhunt by South African police, who published his picture in the media.
But Mr Moyo managed to escape from prison, before being rearrested.
Now, he has slipped from police custody by walking out of court, along with members of the public.
Police spokesman Katlego Mogale said Mr Moyo was apparently walking with crutches when he escaped.
He was not locked in a holding cell as he waited to appear in court in the capital, Pretoria, South Africa's News24 website reports.
Mr Ximiya criticised police for allowing Mr Moyo to get away.
"He was picked up by the police so he could go to court, and escaped under the nose of the police," Mr Ximiya is quoted by the Reuters news agency as saying.
"We warned the police that this person had escaped before and therefore they should tighten their security."
Related Internet Links
The BBC is not responsible for the content of external sites.