Eritrean leader Afewerki in 'peace trip' to Uganda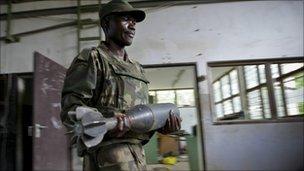 Eritrea's President Isaias Afewerki is visiting Uganda in an attempt to boost peace in the Horn of Africa, a Ugandan presidential statement has said.
Mr Afewerki's talks with President Yoweri Museveni would focus on claims that Eritrea backs Somalia's militant Islamists, the officials said.
Eritrea - which is under a UN arms embargo - strongly denies the allegation.
It wants to rebuild ties with neighbouring states, analysts say.
Ugandan and Burundian soldiers make up the 9,000-strong African Union force battling the militant Islamist group, al-Shabab, in Somalia.
Al-Shabab - which is linked to al-Qaeda - controls large swathes of south and central Somalia - including two large regions worst affected by a famine.
Earlier this month, it said its forces were making a tactical retreat from the capital, Mogadishu.
Last year the group bombed the Ugandan capital, Kampala, killing 76 people.
"There are serious allegations that Eritrea is supporting al-Shabab in destabilising the Horn of Africa and so we will be hoping to hear responses to those issues," the permanent secretary at Uganda's foreign ministry, James Mugume, told the AFP news agency.
Earlier this month Eritrea applied to rejoin the regional bloc, the Inter-Governmental Authority on Development (Igad).
It pulled out of Igad in 2007 after the body - made up of Kenya, Uganda, Djibouti, Ethiopia, Sudan and Somalia - supported Ethiopia's military intervention to back the weak government in Somalia.
Eritrea analyst Michela Wrong told the BBC Mr Afewerki's trip was the latest sign that he wanted to end Eritrea's isolation.
"Eritreans pride themselves on their rugged independence from the world, but I think there is a realisation this has reached dangerous levels. They are now regarded as a pariah state," Ms Wrong told the BBC's Network Africa programme.
"I suspect this is Eritrea reaching out to neighbours to say: 'We don't want to be completely on our own.'"
Eritrea gained independence from Ethiopia in 1993, but the two countries soon fell out and fought a war in 1998 over their disputed border.
Eritrea accuses the West of not putting sufficient pressure on Ethiopia, an ally of the US, to respect an international commission's finding that it should withdraw from the town of Badme, which sparked the war.
Eritrea has also cut links with international aid agencies and denies UN reports that it is suffering from the drought which has hit East Africa.
Related Internet Links
The BBC is not responsible for the content of external sites.