Kenya's cabinet rejects quota for female MPs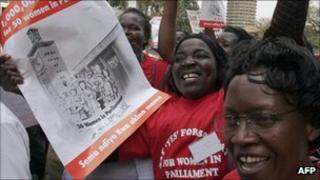 Kenya's coalition government wants to drop the new constitutional requirement that women should make up a third of MPs in parliament.
The requirement would be "technically impossible" to achieve in elections due next year, the president's office said.
Analysts say the government fears that if parties are forced to reserve seats for women it will cause serious divisions in their ranks.
A women's activist told the BBC the government's plan should be resisted.
President Mwai Kibaki's office said the cabinet decided to appoint a task force to draw up a constitutional amendment, scrapping the quota.
The decision to set aside seats for women - who form the majority of the population in Kenya - was an "important requirement" of the constitution but "technically impossible" to achieve, it said in a statement.
The new constitution was overwhelmingly approved in a national referendum last August.
'No vision'
The BBC's Angela Ngendo in the capital, Nairobi, says the government seems to believe that parties will face resistance if they try to reserve constituencies for women.
Instead, the government wants voters to be free to choose their parliamentary representatives, our reporter says.
Kenya has less than 20 MPs in the current parliament of 224 members.
Prominent Kenyan women's rights activist Njoki Njoroge Njehu told the BBC the government's plan to scrap its affirmative action policy showed a lack of leadership.
"It does not have a vision to lead Kenya into the 21st century," Ms Njeju, who is the executive director of the non-governmental organisation Daughters of Mumbi, told the BBC's Network Africa programme.
She said Kenyan women campaigned for the quota system to challenge the "injustices" they faced.
"We deserve it and we must fight to keep it," Ms Njehu said.
Rwanda and South Africa are among African countries where a quota system is implemented to strengthen women's representation in parliament.
Kenya is due to hold parliamentary and presidential elections next year - five years after disputed polls which led to a power-sharing government.
Writing a new constitution was part of the political deal to end the violence.