Zimbabwe bank chief reassures foreign businesses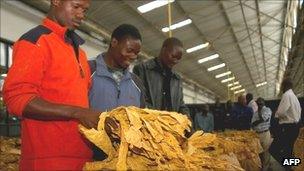 Zimbabwe's central bank governor has sought to reassure foreign investors after major companies were warned they could be nationalised.
Gideon Gono said an ultimatum to transfer control to local shareholders could "harm the recovering economy".
Government minister Saviour Kusakawere's warning went to 13 firms, including BAT and Barclays.
Under the country's empowerment laws, black Zimbabweans should acquire 51% of foreign businesses.
The companies, which included mining companies and banks, were asked to submit plans on how they intended to transfer majority stakes to local owners.
They were told they faced being nationalised and would lose their licences if they failed to comply within 14 days.
In a statement, Dr Gono said the central bank remained the sole authority to issue and withdraw bank operating permits.
"The financial sector ought to be treated with a great deal of circumspection", he said.
"This is necessary in order to avoid fly-by-night, reckless and excitable flexing of muscles and decisions that overlook certain fundamentals that could irreparably harm the nerve-centre of our recovering economy."
The BBC's Grant Ferrett says the dispute over the empowerment law reflects divisions not just within Zimbabwe's power-sharing government, but between high-profile members of President Mugabe's Zanu-PF party.
President Mugabe and his political rival Prime Minister Morgan Tsvangirai formed a power-sharing administration six months after a chaotic presidential election in 2008.
The deal stabilised the economy, which had been in terminal decline, and Zimbabwe's fortunes improved since the local currency was abandoned in favour of the dollar.
Related Internet Links
The BBC is not responsible for the content of external sites.