Liberia referendum: Error hampers controversial poll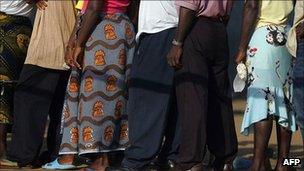 Liberia's referendum on constitutional changes has got off to a slow start due to an error in one of four questions.
Instead of asking voters to choose between 70 and 75 years as the retirement age for judges, the ballot has both ages as 75.
Referendum organisers said they had been aware of the mistake but had failed to inform the public.
A BBC reporter in the capital says it became public when voters began phoning radio stations about the confusion.
One caller in the capital, Monrovia, said as a result some voters were leaving the queue.
"We don't understand some of the features on the ballots; we don't know what we are voting for," Jerome Seo, queuing in the opposition stronghold of New Kru Town in Monrovia said.
The BBC's Jonathan Paye-Layleh in the city says the deputy co-ordinator of the election commission's referendum organising team pleaded with the public to understand the mistake was not deliberate.
"We sincerely apologise for this error," said Amos Ziah Koukou.
He said the ballots had been printed in Denmark with the help of the United Nations Development Programme.
It was only detected when the ballots had been delivered, by which time it was too late to correct, Mr Koukou said.
Disclaimers about the question had been placed at polling station across the country, he added.
Earlier, the UN mission urged voters to avoid violence in what is being seen as a test of democracy for the country.
Some 10,000 peacekeepers have been in the country since 2003, when then-President Charles Taylor, who is now awaiting a verdict at his war crimes trial in The Hague, went into exile.
The main opposition Congress for Democratic Change has called for a boycott of the referendum as it says some of the changes will make it easier for the president and her Unity Party to win a second term.
Ellen Johnson-Sirleaf won presidential elections in 2005, two years after the end of the country's 14-year civil war.
One of the controversial proposals being put to the 1.7 million registered voters is whether to lower the percentage of votes needed to win a parliamentary or municipal seat.
Others include reducing the length of residency required for presidential candidates from 10 years to five years and changing the date of elections from October to November as well the question about the increasing the retirement age for judges.
Mrs Johnson-Sirleaf became Africa's first elected female head of state, winning 59% of the vote in a run-off against football star George Weah from the CDC.
Our reporter says during her five years in office she has become a symbol of good governance abroad, but is facing stiff competition at home.
Related Internet Links
The BBC is not responsible for the content of external sites.