South Africa wine grown by 'abused' workers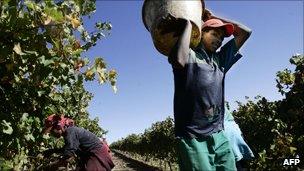 Workers helping to make South Africa's renowned wines are subject to unsafe working conditions and inadequate housing, a report has said.
Human Right Watch says workers on wine and fruit farms face exposure to pesticides and are blocked from forming labour unions.
The reports also says these workers are some of the worst paid in the country - despite strict labour laws.
A trade body for wine producers said the report was unfair.
But the head of Wines of South Africa said the study's claims would be investigated.
Most of the abuses apparently happened in the Western Cape Province - home to six of the country's nine wine growing regions.    
"I spoke to a worker who has been living in a pig stall with his family for more than 10 years," HRW's Kaitlin Cordes told the BBC.
The 96-page report, Ripe with Abuse, is based on more than 260 interviews with farmworkers, farm owners, civil society members, industry representatives, government officials, lawyers and union officials.
It calls on the government to do more to make sure the labour laws are being respected, following previous similar warnings.
The BBC's Karen Allen in Johannesburg says South Africa's wine industry is trying to recover from its chequered past.
Farm workers were once compensated for their labour in wine, with disastrous health consequences.
Now Human Rights Watch wants to address modern day abuses.
It is calling for farm workers to be put on an equal footing with other employees in South Africa, and is urging the big international supermarket chains to put pressure on suppliers to improve working conditions.
Wines of South Africa head Sue Birch told the BBC she was "upset" by the report, saying it lacked balance.
"The respondents were identified by trade unions and NGOs who have a vested interest in producing the very worst examples," she said.
South Africa's farmers association AgriSA called the report "one-sided, malicious, unfair and highly irresponsible," reports the AFP news agency.
South Africa is the world's seventh biggest wine producer.
The industry was worth 26.2bn rand ($3.7bn; £2.2bn), according to a 2009 study.
Related Internet Links
The BBC is not responsible for the content of external sites.