Malema and Zuma battle for the ANC's soul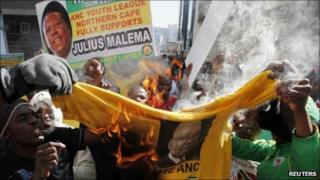 When Julius Malema was re-elected unopposed as president of the African National Congress Youth League in June, he was on top of the world.
Barely three months later, he is on the verge of being either suspended or expelled from the ANC.
As much as this disciplinary hearing is about Mr Malema's reckless tongue, it is also about a weak ANC.
This is the first time since 1944 that the ANC has charged virtually the rest of its Youth League's executive.
He is charged with "sowing divisions with the ranks of the ANC" and "bringing the party into disrepute".
This follows Mr Malema's statement that he supports "regime change" in neighbouring Botswana, whose government he has accused of working with "imperialists".
His days have been numbered for a while - last year he defied the ANC by supporting Zimbabwe President Robert Mugabe's policy of seizing white-owned land without paying compensation.
'No relationship'
Just three years ago, it would have been inconceivable that we would be watching ANC Youth League supporters burning t-shirts with President Jacob Zuma's portrait on them, as they did outside the party headquarters in Luthuli House on Tuesday.
In 2008, Mr Malema pronounced he was ready "to kill for Zuma".
Now, he says "there's no personal relationship" between him and the ANC leader.
When I asked Mr Malema when he had last spoken to President Zuma, he shrugged his shoulders and said: "I greeted him at the last NEC [National Executive Committee] meeting".
This was the meeting which was held a day after Mr Malema was charged by the ANC disciplinary committee.
Some say this disciplinary action by the ANC is more about the party leadership election due to take place late in 2012 in Mangaung, where the ANC was founded 99 years ago.
Radical action
Mr Malema's Youth League, who helped Mr Zuma come to power, are keen to deprive him of the second term he desperately wants.
They accuse him of not doing enough to help poor black South Africans and want more radical action such as nationalising the mines and seizing white-owned land.
Instead, they back Deputy President Kgalema Motlanthe to become both ANC leader and then South African president.
Like Mr Zuma, Mr Malema's origins are humble. Both have a deep connection with the down-trodden masses. They both like to sing and dance in public.
Mr Malema sings "Shoot the Boer [white farmer]", for which he was dragged to court earlier this year. Mr Zuma's favourite song is "Aw'lethe Umshini Wam" - "Bring my machine gun", another old liberation song.
But Mr Zuma was at the university of life on Robben Island prison with the likes of Nelson Mandela; Mr Malema has never been to prison.
Mr Zuma was in exile for 30 years and is a much more experienced political player than the 30-year-old Mr Malema: The president is determined to show Mr Malema who is boss.
President Zuma's authority is on the line. If he fails and Mr Malema emerges victorious, that will be the end of Mr Zuma's authority both within and without the ANC.
Aubrey Matshiqi, a research fellow at the Helen Suzman Foundation, who follows the ANC very closely, told the BBC: "This is a fight to the bitter end. This fight will not end on points. It will be a knock-out."
Perhaps smelling the winds of change, Mr Malema said on the eve of his hearing: "We are prepared for anything. We have no problem. We've always said that the ANC is in charge of our future and if the ANC defines your future as expulsion. You need to accept that because that is the fate the movement has decided for you."
What is not clear is who has the balance of power in the battle for the soul of the ANC.
This may end in a rebellion if the cantankerous Youth League leader is expelled.
However if Mr Zuma wins this battle, then Mr Malema may fade into political oblivion.