Profile: Khamis Gaddafi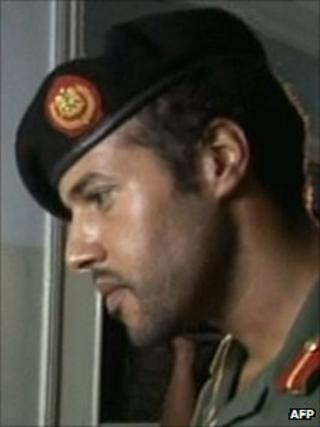 Khamis Gaddafi is one of Col Muammar Gaddafi's sons and head of the 32nd Reinforced Brigade, popularly known as the "Khamis Brigade", the best trained and equipped force in the Libyan military.
Since the country's uprising began in February, the brigade has led brutal crackdowns across the country, notably in Tripoli, Benghazi, Zawiya and Misrata.
Residents have said the heavily-armed troops operate outside the normal rules of war, and accused them of murdering and persecuting civilians.
Last week, the bodies of at least 50 detainees were found in a warehouse near their headquarters in the capital, sparking international outrage.
There has been heavy speculation about Khamis's fate in the uprising.
The interim leaders said on 4 September that they were now sure he had died in fighting around Tripoli a few days earlier and was buried near Bani Walid.
However it gave no further details and Khamis has been reported dead twice earlier in the uprising, only to reappear.
'Regime protection unit'
Born in 1983, Khamis was the fifth son by Col Muammar Gaddafi's second wife Safia Farkash.
At the age of three, he was wounded when US jets bombed his father's Bab al-Aziziya compound in Tripoli. The attack was ordered by President Ronald Reagan, who said he had evidence Libya was behind a nightclub bombing in Berlin that killed two US servicemen and a Turkish woman.
Little more was known about Khamis until 2002, when he reportedly graduated from the Libyan Military Academy. The following year he travelled to Russia to study at the Frunze Military Academy in Moscow.
On his return, Khamis was asked to set up the 32nd Brigade, described in one leaked US diplomatic cable as a "special forces unit that effectively serves as a regime protection unit".
Unlike the majority of the Libyan army, which was kept deliberately weak by Col Gaddafi to lessen the chance of a coup, the brigade's personnel were given modern weapons, equipment and outside training. Its recruits were paid well and drawn largely from tribes loyal to the regime.
The brigade's size was not clear, but the US military estimated it had 10,000 personnel at the start of the uprising and that they were backed by foreign mercenaries. At its disposal were tanks, artillery and rocket launchers.
In April 2010, Khamis appeared to put his military career on hold to pursue an MBA at the IE Business School in Madrid. While there, he used the pseudonym Muammar Khamis, according to the Spanish newspaper El Pais.
Then in early 2011, he spent four weeks in the US as part of an internship with AECOM Technology Corporation, a global infrastructure company.
The Daily Telegraph reported that his stay was to include visits to the Port of Houston, Air Force Academy, the National War College and West Point. But it was cut short on 17 February, shortly after the Libyan uprising began.
Khamis was later expelled by IE because of his role in the repression.
'Executions'
Although responsible primarily for the defence of Tripoli, Khamis and members of his 32nd Brigade were reportedly sent as early as 19 February to the eastern city of Benghazi, where pro-democracy protests first erupted, to reinforce local security forces and help crush dissent.
In late February, his troops were deployed to confront another revolt in the city of Zawiya, an important port west of the capital.
Witnesses said its troops fired heavy artillery, mortars, anti-aircraft guns and automatic weapons at mosques, hospitals and areas inhabited by civilians. There were also reports of air strikes, tanks rolling through the streets, and snipers placed on roof-tops. The rebels said dozens of civilians died.
After quelling the uprising in Zawiya, the 32nd Brigade led the counterattack against Libya's third city of Misrata in early March. Though hundreds were killed, the attempt to bombard and starve its population into submission failed.
Nato air and missile strikes, which began in late March, played a major role, destroying the brigade's command-and-control facilities and heavy weapons.
As the summer approached, Khamis' troops were forced back onto the defensive and were deployed to hold back the rebels' efforts to take Tripoli.
On 20 August, the rebels launched a major assault on the capital. The so-called "ring of steel" formed around the capital by the 32nd Brigade disintegrated. The next day, its headquarters in the west were overrun. Rebel fighters found the base abandoned, along with artillery and rocket launchers.
Two days later, as the rebels breached the walls of Bab al-Aziziya, members of the 32nd Brigade summarily executed at least 50 detainees in a warehouse in the Khalida Ferjan area of Salah al-Din, south of Tripoli, which adjoins the Yarmouk military base, witnesses say.
"Four soldiers climbed on the top of the warehouse, and another soldier opened the door. They started shooting at us through the roof... The guy at the door was throwing in grenades," Abdulrahim Ibrahim Bashir, one of the survivors, told Human Rights Watch. "After I escaped, I saw one of the soldiers finish off anyone who was wounded lightly."
Troops under Khamis' command were also accused of killing at least 17 detainees in a makeshift prison as rebel forces began advancing on the Tripoli district of Gargur around 21 August.
The discoveries prompted the chief prosecutor of the International Criminal Court to say he might also apply for an arrest warrant for Khamis on charges of crimes against humanity. The ICC has also issued warrants for Khamis' father, brother Saif al-Islam, and uncle Abdullah al-Sanussi.
Death claims
Then on 29 August, rebel military spokesman Ahmed Bani announced that Khamis and his uncle were "almost certainly killed" in a rebel ambush two days earlier near Tarhouna, 90km (55 miles) south-east of Tripoli.
"Khamis was buried in the town of Bani Walid. Abdullah al-Sanussi's burial was delayed so that his family could decide the best place for it," he said.
But on 30 August, a man claiming to be one of Khamis' captured bodyguards told Sky News that Khamis had been inside an armoured 4x4 vehicle that was hit by a missile fired from a Nato Apache helicopter.
On 4 September the interim government in Benghazi said it was now sure Khamis was dead.
There have been claims that Khamis had been killed before, including in March when a rebel pilot was said to have crashed his jet into Bab al-Aziziya. Reports earlier this month said he had died in a Nato air strike in Zlitan.