Nigeria floods: Death toll in Ibadan rises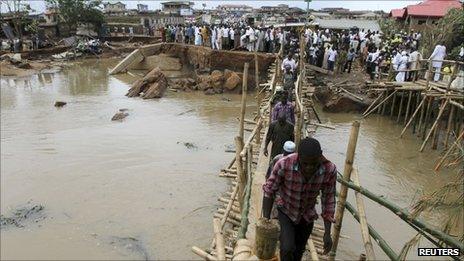 At least 102 people are now thought to have been killed by floods in and around the south-western Nigerian city of Ibadan, the Nigerian Red Cross says.
Floodwater, resulting from heavy rains that began on Friday, damaged three bridges and caused a dam to overflow, submerging buildings across the city.
Most of the victims were children.
"I think in the process a lot of [houses] were washed away by the rainwater," said Umar Mairiga, a Red Cross official.
He said that some victims had been trapped in collapsed buildings.
Although flooding is common in Nigeria during the rainy season, meteorologists say this year's rains have been particularly heavy.
Last year, about 500,000 people were displaced nationwide.
The flooding over the weekend in Ibadan, 150km (90 miles) north of Lagos, was exacerbated by rubbish and debris clogging drains in the city.
About 2,000 residents have so far been displaced.