Ugandan police ban 'regime change' rally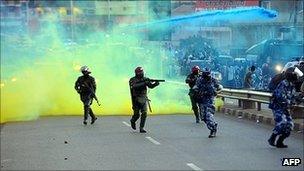 Ugandan police have banned a rally to celebrate the overthrow of North African leaders, saying it could incite violence.
Opposition group Activists For Change called the rally for Friday to "celebrate people power in North Africa".
It printed a flyer, suggesting that Uganda's long-serving President Yoweri Museveni could also be deposed.
A government crackdown on protests in April killed nine people.
Police spokesman Vincent Sekate said the rally had been banned because of a dispute over the venue.
"Furthermore, the purpose of the rally is likely to incite the public into violence," he said.
In the Activists For Change flyer advertising the rally, the photos of the ousted leaders of Tunisia, Egypt and Libya are crossed out, with Mr Museveni - who has been in power since 1986 - lined up as the next to fall.
Uganda has been rocked by a wave of protests since Mr Museveni was re-elected to office in February in a poll denounced as fraudulent by opposition groups.
The opposition organised a series of protests against the rising cost of living in Uganda.
Mr Museveni accused the protesters of plotting an Egypt-style uprising and warned that they could be jailed.
In April, nine people were killed after the security forces intervened to end the protests.
The main opposition leader, Kizza Besigye, was assaulted, arrested and charged with inciting violence.
The charges were later dropped.
Mr Museveni has been a staunch critic of the Nato-led military intervention in Libya, saying it could trigger an arms race in the region.
He urged the opposition to enter into dialogue with Col Muammar Gaddafi to resolve differences.
Like many African countries, Uganda has refused to recognise Libya's National Transitional Council as the legitimate representative of Libyans.
On Tuesday, Zimbabwe expelled the Libyan ambassador to Tripoli after he said he backed the NTC.
Last month, Nato-backed rebels entered the Libyan capital, Tripoli, ending Col Gaddafi's 42 years in power.
Related Internet Links
The BBC is not responsible for the content of external sites.