Julius Malema case: South Africa's ANC to proceed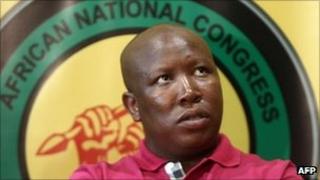 South Africa's governing ANC has dismissed a request by controversial Youth League leader Julius Malema to drop his disciplinary case.
Mr Malema, 30, is accused of "sowing divisions" in the party and bringing it into disrepute by calling for a change of government in neighbouring Botswana.
Once a close ally of President Jacob Zuma, the populist Mr Malema has become a fierce critic.
The case is being seen as a test of Mr Zuma's leadership of the party.
Thousands of his supporters clashed with police as the hearing began on Tuesday. Some burned T-shirts bearing Mr Zuma's face.
Mr Malema's lawyers had presented 22 arguments calling for the case to be quashed, saying he was the victim of a political witch-hunt and the charges were unconstitutional.
Theses were all rejected and the hearing now resumes on Monday, 5 September.
If found guilty, he could be expelled from the party, as he is already on probation after criticising Mr Zuma last year. Five other ANC Youth League leaders face similar charges.
History of insults
The BBC's Karen Allen says security is extremely tight outside the ANC headquarters, where Mr Malema's supporters have been kept back behind a police cordon and barbed wire.
She says that as the ruling was announced they remained defiant, waving banners and singing freedom songs and continuing to call for a wholesale clear-out of top positions in the ANC.
Mr Malema is also being investigated by state prosecutors on allegations of fraud and corruption, which he denies.
He fell out with Mr Zuma, after accusing the president of not doing enough for the poor black South Africans - his main support group in the 2009 elections which brought him to power.
Mr Malema wants him to nationalise South Africa's rich mines and seize white-owned land. He has praised President Robert Mugabe's land reform in neighbouring Zimbabwe.
Our correspondent says the hearing sets the scene for next year's party leadership battle.
Mr Zuma's ambitions to secure a second term as ANC president could be enhanced if Mr Malema is pushed into the political wilderness, she says.
If, however, the maverick youth leader emerges with his ANC membership intact, President Zuma could face an uncertain future.
The youth leader has long been a controversial figure.
He played a central role in helping Mr Zuma take control of the ANC from his predecessor Thabo Mbeki in 2007 and campaigned strongly for him in 2009.
He once vowed to "kill for Zuma" and was also disciplined for saying a woman who said she had been raped by Mr Zuma had had "a nice time". Mr Zuma was acquitted of the charges.
On Monday, Mr Malema said he did not have a personal relationship with the president, only an organisational one.
In May 2010, he was made to apologise publicly following a controversial trip to Zimbabwe where he declared the ANC's support for President Mugabe at a time when Mr Zuma was mediating between the country's coalition members.
Mr Malema was also chastised by the ANC for expelling a BBC journalist from a press conference and defying party orders not to sing a racially divisive apartheid-era song, "Shoot the Boer [white farmer]".