Nigeria floods: Ibadan reflects on Eleyele Dam tragedy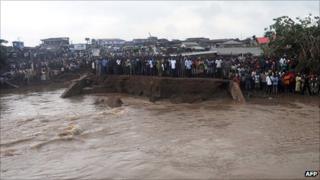 The disaster was unexpected and devastating in its timing.
After six hours of torrential rain the Eleyele Dam, which provided drinking water to the Nigerian city of Ibadan, could hold back the flow no longer.
Water poured over the top, flooding everything in its path.
It was nearly midnight last weekend and many people were asleep in their homes. More than 120 people - many of them children - perished.
"It was like an ocean wave making a loud noise as it came. It was very terrible," Aleton Adejoke told the BBC.
"We managed to close our gate to stop the water rushing in. But thank God we didn't go fishing."
But just 30m (100 ft) from her house a tragedy was unfolding.
Floating cars
In a corrugated metal shack, eight children were trapped alone while their father was away working a night shift. Theirs was the closest house to the river and the speed of the water gave them no chance to escape.
"As they were struggling to come out from their homes they were pushed back," said Oluwole Parker coordinator of the Nigerian relief agency, Oraf. "We found their bodies the next day."
In keeping with local custom, the six smallest children have been buried alongside the river, in a small sandy grave marked simply with branches and six white candles.
The church alongside the grave is now only visible by the outline of bricks in the mud. Someone pointed out the building's corrugated metal roof 50 metres away and a pile of soggy Bibles and muddy pews.
"Cars were floating past that night," said Felix Sello, who lives just 50m from the river. "I've only heard about the tsunami but this was something very close to that."
Felix woke up to find the water outside at shoulder-level and his front door pinned shut by water pressure. He managed to get his children out but said he had now lost everything.
"I'm not going to live here anymore," he said. "The clothes I'm putting on were given to me by a friend."
Natural disaster?
Three make-shift camps have been put together by the Nigerian authorities to house the estimated 600 people in Ibadan who have been made homeless.
At Eleyele Dam repairs were being carried out. Standing on top, watching the water flow, was Oguntola Gabriel from Ibadan Water Corporation.
He said this last happened in 1980 and rejected the idea that people could have been warned.
"The water exceeded the capacity of the dam so the rest had to overflow," said Mr Gabriel. "So it was overflow of the dam which caused the flood and the devastation. It was a natural disaster."
At state government level discussions, thoughts are turning to why the flood claimed so many lives.
"The major aspect of it is really related to building on waterways and inappropriate refuse disposal," said Bosun Oladele, a commissioner from Oyo State. "People disposing of their rubbish in drains and people building in the waters path."
So was this, in fact, a man-made disaster, I asked him?
"A natural disaster assisted by man-made factors," he said.