Return to a different Libya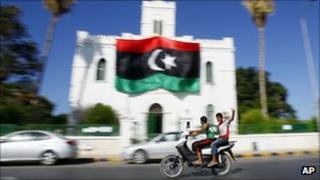 There were polite queues, and giddy children waving flags in the back of their parents' cars, and obliging border guards, and smiling men with guns proffering advice to new arrivals.
Libya's violent revolution many not be over quite yet, but when I crossed into the country from Tunisia a short while ago, a mood of excitement and optimism seemed well entrenched.
"It's normal," said a grinning man named Mohammed, standing by the border waiting for a friend.
He said he'd just returned from seven years living in Tunbridge Wells in the UK. "Well, it's different," he said, after some thought.
On the coastal road east towards Tripoli, there are still some of the familiar trademarks of Libya's conflict - the occasional pickup with a heavy machine-gun welded to the back, the crude roadblocks made from sand - but in town after town the destruction seemed surprisingly limited.
The capital itself appears to be calming down fast.
There are still too many men with guns, and the celebratory gunfire raises its tiresome head each evening, but - at least superficially - this feels like an increasingly normal place, somewhere that could bounce back fast.
Then again…
In the coming days I'm hoping to look deeper into the challenges now facing Libya.
The hunt for Colonel Gaddafi, the fate of those towns still held by his die-hard supporters, the power vacuum in Tripoli and the tensions within and around the transitional government as it drags its feet on moving to the capital.
I left Libya a few weeks ago by ferry from the badly destroyed and besieged city of Misrata.
It's good to be back in what feels like a very different country.