Archbishop will find Zimbabwe Church in chaos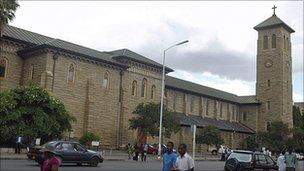 The Archbishop of Canterbury, Rowan Williams, will find his followers dismayed and a Church in chaos when he visits next month.
The Anglican Communion in Zimbabwe is resting on shifting sands. A chorus of discord from within has pitted followers against each other.
The country's political situation has created deep-seated divisions among congregants, choking the faith of the communion.
The ructions are anchored on divisive political lines that have pitted President Robert Mugabe's Zanu-PF party on one side, and members of the Church said to support Morgan Tsvangirai's Movement for Democratic Change on the other.
Nolbert Kunonga, an excommunicated Bishop of the Anglican Church and supporter of Zanu-PF, has clung to the vast empire of the Church's assets, and is now evicting pastors aligned to Bishop Chad Gandiya from Church properties surrounding Harare's diocese.
While Bishop Kunonga's services are virtually empty, Bishop Gandiya - who is recognised as the Bishop of the Anglican Communion in Zimbabwe - still commands a significant following.
Recently, staff were evicted from St John's Chikwaka, a children's home in eastern Mashonaland province.
Bishop Gandiya said: "We take care of close to 100 children, some of them orphans. He (Kunonga) has ordered some of the sisters there, taking care of the children, out of the premises.
"Who will take care of those children? Everyone is turning a blind eye to the assault on our Church.
"This is affecting the people in our community. Nobody is raising a finger, what's exactly is happening?" said Bishop Gandiya.
But the assault does not end there, he says.
"Father Farayi Kuwanda was evicted from his house on Tuesday, his property was thrown out in Seke, at St Aden's," Bishop Gandiya said.
"Its depressing, this is persecution of the Church. It's also in many ways embarrassing. We have the laws of the country being flouted left, right and centre. He [Dr Williams] will certainly find the Church in chaos."
After they were evicted, some priests have had to live in the open air with their families.
In 2008 at Budiriro, police descended on a church during the middle of a service and tear-gassed the congregants.
"Some were choked, and others got badly injured in the stampede," Bishop Gandiya said.
"We have had many incidents in which Kunonga's people had been bussed to attack and disrupt services."
Bishop Kunonga is using an interim court ruling in his favour to be in charge of Church assets and evict clergy loyal to Bishop Gandiya.
On four occasions I sought an interview with Bishop Kunonga, all in vain.
The clergy, who are supposed to be the moral compass of society, have openly taken political sides, dividing the communion.
While the Church should abide by the scriptures, preach good news, love, respect and tolerance, a corrosive political virus seems to have decayed the very principles occupying the heart of the communion.
Dr Williams, the head of the 77-million strong worldwide Anglican Communion, is expected to hold a meeting with President Mugabe during the first visit by a high-profile British figure in years.
Bishop Gandiya has said Dr Williams is coming to add "solidarity" with his besieged communion in Zimbabwe.
The expectation is that the archbishop will be polite but tough, given the tone of his January letter to President Mugabe, in which he urged him to "put to an end these abuses forthwith".
He added there were concerns "that the unmerited, unjust and unlawful persecution of members of the Anglican church in Zimbabwe" had resulted in the "unnecessary suffering of many thousands of people".
Dr Enos Moyo, of the University of Zimbabwe's theology department, said that "conservative Churches, with an educated clergy, for convenience, take sides when they realise they have something to gain" and added that "politicians have exploited the Church".
President Mugabe, a Catholic, has recently been visiting rural Apostolic faith Churches in eastern Manicaland province.
Mr Mugabe's ministers have followed suit, and have been seen wearing the white robes of faith Church adherents, barefoot, addressing thousands of the church followers.
It is not difficult to understand why. Elections are beckoning, and every vote counts.