Robert McBride: South Africa jails ANC ex-police chief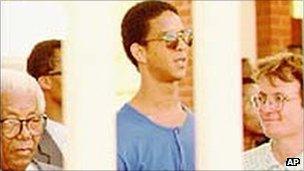 A former top South African policeman has been sentenced to seven years in prison for drink-driving and defeating the ends of justice.
A magistrate said Robert McBride, the ex-chief of a local police force near Johannesburg, was "evil".
He was convicted of crashing a state-owned car in 2006 while drunk.
McBride was a famous anti-apartheid fighter who was once on death row for bombing a bar in the eastern port city of Durban in 1986.
Pretoria Magistrate Peet Johnson said McBride had not shown any remorse for causing the accident.
"Instead of coming clean, you did everything possible to cover your tracks… you are indeed an evil person," he said.
The charge sheet alleged that McBride had asked a doctor to draw blood from a subordinate after the crash and then tried to obtain a false medical certificate stating he was sober at the time of the accident.
The crash happened outside Pretoria after McBride attended a Christmas party in 2006.
At the time, he was the head of the metro police force in the Ekurhuleni region, near Johannesburg.
Mr Johnson jailed McBride - a prominent member of the governing African National Congress (ANC) party - for two years for drunk driving and five years for defeating the ends of justice. Two years of the second term were suspended.
McBride's lawyer said he would appeal against the sentence.
Last year, South Africa's ex-police chief, Jackie Selebi, was convicted of taking bribes from a drug dealer, Glenn Agliotti.
During white-minority rule, McBride was given the death sentence for bombing a Durban beach-front bar, frequented by officers of the former apartheid regime.
Three people were killed in the blast.
The anti-apartheid movement led an international campaign to force the regime to grant McBride a reprieve.
After the ANC came to power in 1994, ending apartheid, McBride was given a top post in the foreign affairs ministry.
He has remained a hate figure to some white South Africans while retaining folk hero status among many black people, correspondents say.
Related Internet Links
The BBC is not responsible for the content of external sites.